Donate using PayPal if you ❤ this addon!
Hides the "Clean Up" buttons on your Backpack, Bank, and Reagent Bank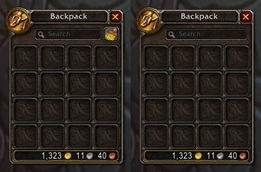 Features
Tested with default bags and bank UI only
Slash commands allow hiding or showing the bank/reagent bank cleanup button
/hidecleanupbagsbutton bank hide
/hidecleanupbagsbutton bank show
Alternate slash command access using /hcubb
Why did you make this addon?
To avoid accidentally clicking the "Clean Up" button, to reduce UI clutter, and because I already use BankStack to keep my bags tidy.
Bugs & Suggestions
Please make sure you have the latest version and post into the Curse.com comments with details and if possible a screenshot. Thank you for taking the time to report an issue, it helps make the addon better for everyone.
Other Addons by cmc3215