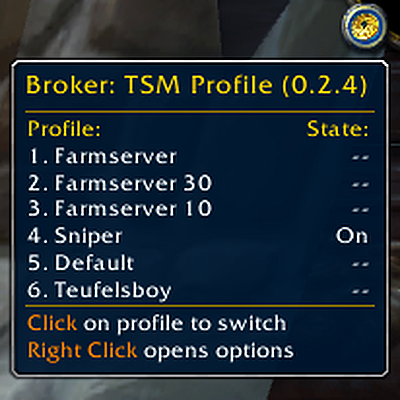 Broker_TSMProfile
Description
Broker_TSMProfile displays the current Trade Skill Master profile and lets you switch to a different profile with a simple click.
Have you ever placed many items with a wrong Trade Skill Master profile in the auction house? With this addon you'll never lose gold again because the wrong profile was set.

Usage:
Mouseover the minimap icon or the LDB Header:
Using a Data Broker Display is recommended but is not necessary. Broker_TSMProfile has LDB support for Bazooka, ChocolateBar, Titan Panel, StatBlockCore etc.
Left-click on the minimap icon or the LDB Header opens TSM.
Options:

Requirements:
This addon requires TradeSkillMaster v4.
Troubleshooting:
Please report any bugs you may find or any suggestions you might have to the ƇurseFȯrɡe Project Page
If you wish, you can send me a PM to Expelliarm5s on ƇurseFȯrɡe.
ATTENTION: The only original source for my addons is the ƇurseFȯrɡe site or the ƇurseFȯrɡe updater app. Do not download my addons from another website or with other download apps as they are likely to be out of date and may contain malware.
My other addons (may or may not be useful to you):