"Save your iron and diamonds for more important things"

A mod that adds more gem ores to your world, with armor, tools, weapons to build and treasure to find. All materials are positioned below vanilla Netherite. This is for Fabric only, if you are looking for Forge, I would recommend Mining Master, Gems & Jewels, Gems and Crystals, or ExtraGems.


- (10) new ores added to the Overwworld and Nether, plus deepslate versions
- (10) sets of standard vanilla style armor, tools, and weapons
- (10) sets of special tools (paxel, hammer, excavator, and tree axe)
- (10) sets of Gem Bows and Gem Arrows
- (11) perk items called Juju, each providing a special player benefit - see below
- (21) new enchantments - see table below
- Collect all the Juju and assemble them together into Gem Crowns
- Gem tools can be repaired directly in the crafting grid
- Treasure Bags can be found in chests around the world and provide nice loot
- Gem Bag backpack that provides for extra storage on the go
** Many of the features in the mod can be adjusted to your liking in the config file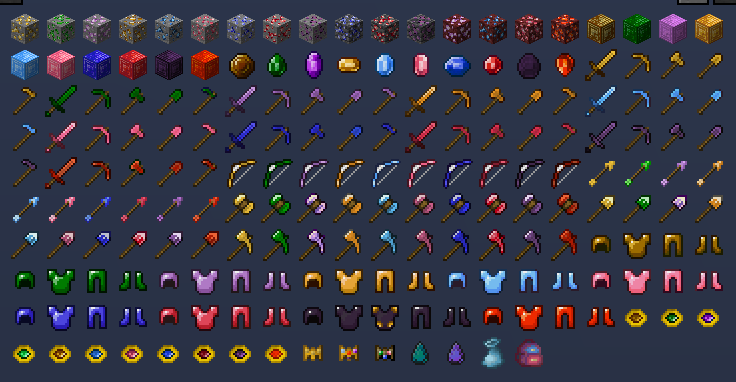 Other mods that add functionality to MoreGems
Want a More Gems Adze: More Than a Pickaxe
Want more tools for More Gems: Harvest Scythes
Materials are balanced and all under Netherite level in stats and durability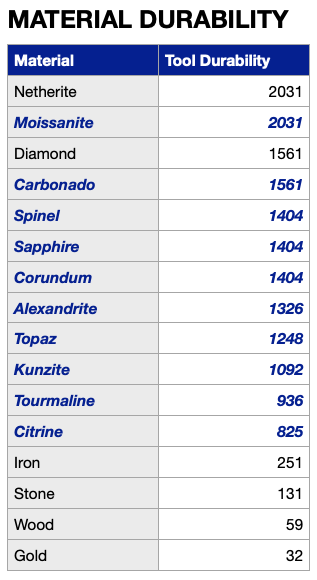 Durability is scaled against Mohs Hardness Scale as a percentage of Diamond
Ores and Blocks

What's your favorite color?


Various Gem Juju available in chests around the world and dimensions that provide player perks.