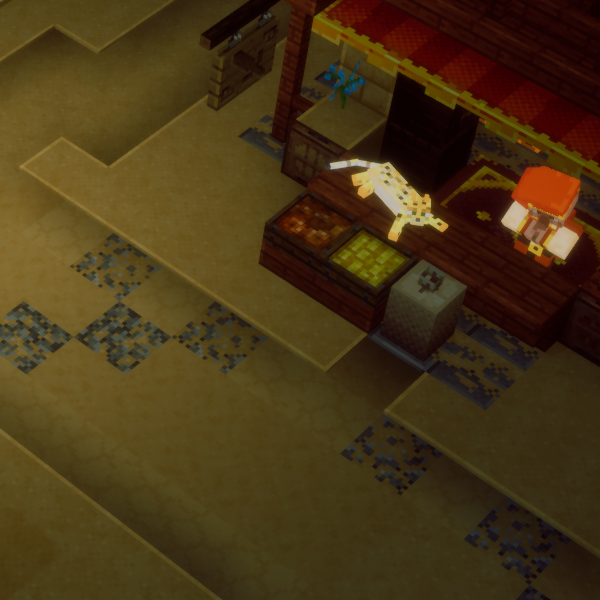 Starry Night Camp (Compatible Addon)
Description
Starry Night Camp mod changes the Ambiance of the Camp to be the same one used in the End. This small change however, makes it incompatible with other Camp Mods that have a unique Resourcepack ( different textures). For example Desert Camp or Taiga Camp by PinkuRinku, both are not compatible with my Starry Night Camp Mod.
If you don't care about other Camp Mods, download this :https://www.curseforge.com/minecraft-dungeons/mods/starry-night-camp
But if you want this Ambiance alongside other mods, instead use this Mod!
How to use:
*Do NOT use the other Starry Night Camp Mod, use this one.
*You also MUST use another Camp mod that has special textures, this is what this mod is for. Without another mod that adds it's own textures, the lobby will have no proper textures!
How to set up Minecraft Dungeons for modding (Launcher version)
https://dokucraft.co.uk/stash/?help=modding-dungeons-launcher


Open the launcher and click on Settings in the lower left corner.
Go to the folder shown in the Settings menu under "Minecraft Dungeons Installation".
From the install folder, go to dungeons\dungeons\Dungeons\Content\Paks
Create a new folder here called ~mods (Yes, with a ~) and put your mods in this new folder.
When you want to launch the game, do it by running the Dungeons.exe file in your <install folder>\dungeons\dungeons folder. Running the game through the launcher will remove any mods you have installed.

How to set up Minecraft Dungeons for modding (Windows Store version)
https://dokucraft.co.uk/stash/?help=modding-dungeons-windows-store

Camps that work well with this mod (I'll probably update the list sometimes):
*Taiga Camp - https://www.curseforge.com/minecraft-dungeons/mods/taiga-camp
*Desert Camp - https://www.curseforge.com/minecraft-dungeons/mods/desert-camp