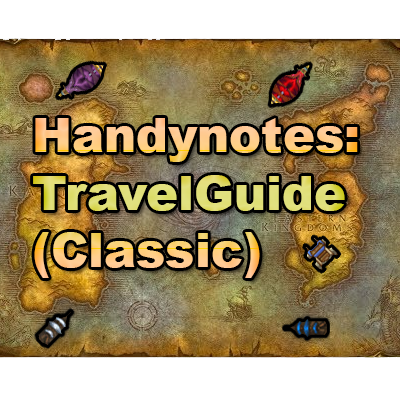 HandyNotes: TravelGuide (Classic versions)
Description
TravelGuide (Classic versions) is a HandyNotes plugin to show the boat and zeppelin locations on the world map and the mini map.
Options
icon scale and alpha.
toggle visibility of

Portals (only in WotLKC)
Boats
Alliance Boats (If you play Horde, it displays the Alliance boats.)
Zeppelins
Horde Zeppelins (If you play Alliance, it displays the Horde zeppelins.)
Deeprun Tram
Notes
Features
Support for TomTom Waypoints.
notes for the portals, zeppelins and boats.
Localization
enUS - default
deDE - German (Native locale by Dathwada!)
frFR - French (thanks scaxfull!)
koKR - Korean (thanks blacknib!)
ptBR - Brazilian Portuguese (thanks D4MM0N1C!)
ruRU - Russian (thanks Arrogant_Dreamer!)
zhCN - Simplified Chinese (thanks swimstiger!)
If you wish to help localize TravelGuide (Classic), please go to Localization.
(please consider that i only want to add full translated languages)
Issues and Suggestion
Please go to Issues to submit any issue found or any suggestion.