MineBoatRace
for Minecraft 1.18.1
Story
Are you delighted by a neat and jolly boat race?
Welcome to our MineBoatRace with ingenious game mechanics, sequences and racing features. Experience with up to four friends many different tracks with different themes and designs and win the golden crown! Shock or brake your rivals with items - but watch out for lanes you aren't permitted to pass.
In this playful Minecraft minigame, up to four players compete in boats and duel in speed and driving skills. Optionally, any number of other players can spectate!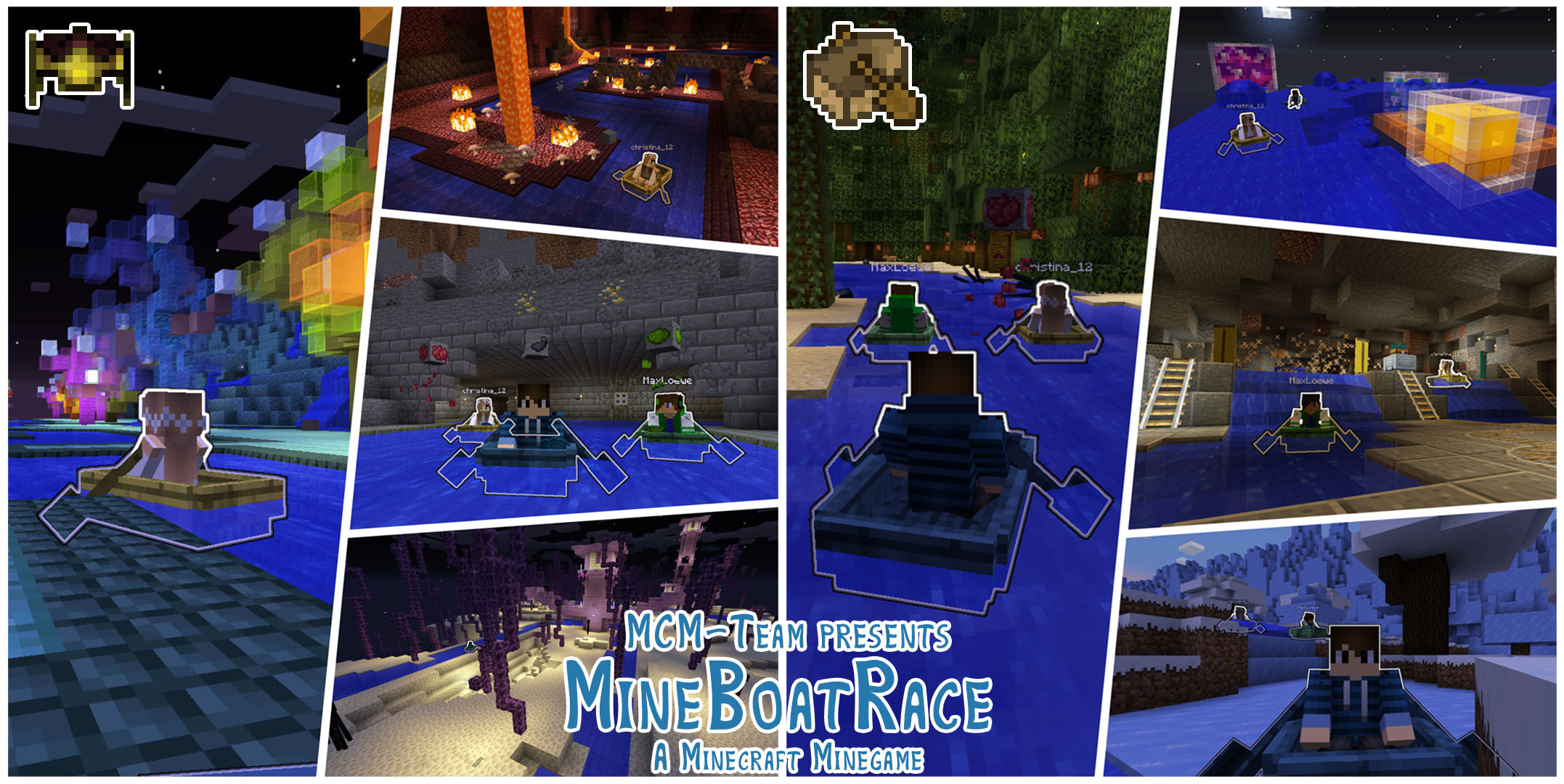 Once all players have chosen a boat, it starts automatically! Please make sure that everyone
has selected a boat and is in the race or the spectating room

For more information, check out the tutorial room!
Have fun with this exciting boat race
and may the best win!
We are looking forward to your feedback! How did you like the map?
Please write us on YouTube or in the comments of the download post.
warco311, christina_12 and MaxLoewe
- MCM-Team -
Trailer
Rules of use
You are not allowed to upload the map elsewhere, but you are welcome to you link the download post if you like it

Also when publishing screenshots or videos please link to the post for other players to find our map.
The map has cost us a lot of work and time, please respect this rules.

Resource pack
The resourcepack is mandatory, please make sure every player uses it (It's inside in the world file). You can see the status of the resource pack next to the start position with a red or green text.
For Version 1.9: Link Removed: https://www.mediafire.com/file/g3dk7jq02cyc94x/MineBoatRace_-_Version_1.9_-_Resourcepack.zip/file
For Version 1.8: Link Removed: http://www.mediafire.com/file/dodg0ct1cxd8pqt/file
For Version 1.7: Link Removed: http://www.mediafire.com/file/66vauh5u75y02w7/MineBoatRace_-_Version_1.7_-_Resourcepack.zip/file
For Version 1.6: Link Removed: http://www.mediafire.com/file/o90bzt74pchdcuk/MineBoatRace_-_Version_1.6_-_Resourcepack.zip/file
For Version 1.5: Link Removed: http://www.mediafire.com/file/6a506zdrza8ztbn/MineBoatRace_-_Version_1.5_-_Resourcepack.zip/file
This minigame is using a lot of commands, so it needs a powerful computer/server
otherwise it will be a slow (but still cool) race.