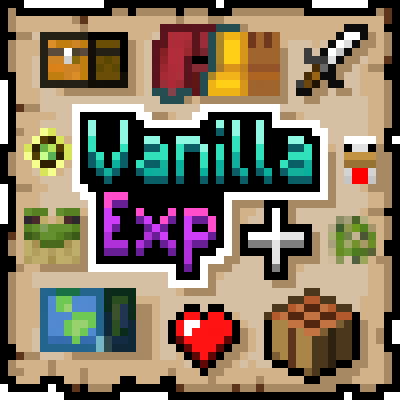 Vanilla Experience+
In this pack, I try to improves, upgrade and repair a lot of things while keeping the Vanilla style.
This pack is NOT designed for Fast Graphics!
OptiFine is NOT required but you will see more differences by playing with it (or with mods CIT Resewn, CEM etc.).
Any issues and suggestions please report in the comments or DM to me.
If you don't like bushy leaves, you can download this addon.
If you play with mods, check out addon that supports some of them (1.20.1).
English (US)
Polish
With mod OptiGUI, villagers on multiplayer servers display the inventory incorrectly (e.g. a shop in Bed Wars).
Different Stems
Colorful Enchanting Table Particles
Unique Dyes
Animated Campfire Items
Circular Sun and Moon
Circular Log Tops
Variated Coarse Dirt
Variated Grass
Variated Cobblestone
Variated Moss
Variated Red Mushroom Blocks
Variated Gravel
Variated Mycelium
Variated Bookshelves
Diminising Tools
Visual Infested Stone (Items)
Visual Waxed Copper (Items)
Clear Banner Patterns
Sticky Piston Sides
Visual Honey Stages
Visual Note Block Pitch
Lower Fire
Lower Shield
Translucent Pumpkin Overlay
Smoother Font
Redstone Wire Fix
Big Dripleaf Stem Fix
Small Dripleaf Stem Fix
Pixel Consistent Beacon Beam
Proper Break Particles (only chests)
Don't Eat the Bowl!
Iron Bars Fix
Cloud Fog Fix
Hopper Bottom Fix
Tuxedo Cat Fix

Pumpkins Reimagined
Chests Reimagined (only ender chest - modified)
Reimagined (only debug stick item)

xali's Enhanced Biomes: River & Pond (only waterlogged rusted rails - modified)

Unique Spawn Eggs (modified)

Stormilla (only frogspawn, dripleafs, repeater, comparator and boats items - modified)

Animated Buckets (modified)

Biomes Wandering Trader (modified)

Better Slime Ball And Magma Cream (inspiration)

NBTPack (inspiration of fish items and holding a lantern)

Icons (thanks to their pack, I learned how to make my own icons)