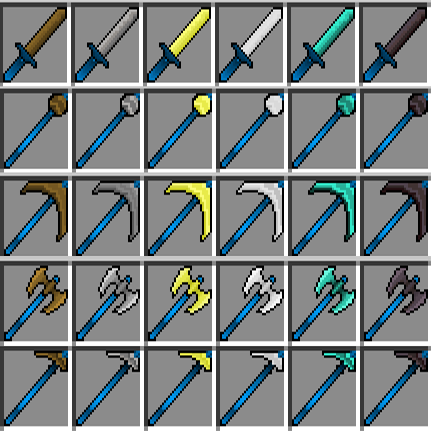 RPG PVP Swords and Tools


Summary
Custom RPG & PVP Pack made for use on my DarkRPG modpack. Now released as a standalone. Sword and Tool graphics by Hakiem.
Description
This will further improve your vanilla experience by giving you a RPG feeling which can also be used in PVP.
This pack features 32x images all crafted from scratch to give you an immersive feeling inside the game.
This pack will feature:-
- Custom Swords with blue hilts
- Custom Shovel
- Custom Pickaxe
- Custom Axe
- Custom Hoe
- Custom Hearts
- Custom Hunger bar
- Custom XP bar
- Custom Crosshair
- White Highlight line for blocks
Improve your RPG gameplay and use this pack today.
Looking for more PVP packs? check out my Tiny PVP Swords and Tools pack Here