NOTE: I am working on a rewrite (2.0) of this mod, with much improved world generation in comparison to the current version.
I will still be maintaining this version for bug fixes, however :)
TheBiomeOverhaul
A 1.14 biomes and world generation mod for fabric loader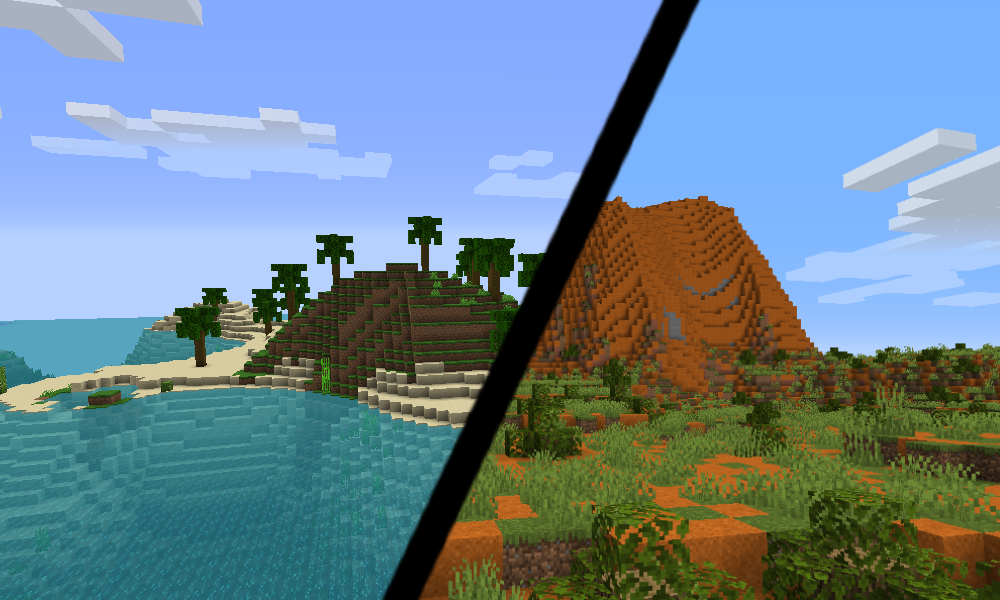 TheBiomeOverhaul, by valoeghese, is an open source fabric biomes mod which replaces world generation with a custom, climate-category based system and adds some lots of new biomes to go with it.
A config generates on the first load, and can be tweaked to customise world generation.
The mod has an API so other fabric mod developers can interact with the mod and add their own biomes!
When the official fabric biomes api is released I'll be sure to create compatibility!
This mod requires Fabric API, which can be found here
The mod currently adds the following biomes:
• Alps
• Alps Edge
• Bayou
• Bayou Hills
• Brushland
• Chaparral
• Dunes
• Fen
• Flower Field
• Forested Fen
• Forested Spires
• Glacier
• Grassland
• Gravelly Mountain Peaks
• Grove
• Highland
• Ice Plains
• Marsh
• Mire
• Modified Outback
• Modified Rainforest
• Moor
• Mountain Peaks
• Murky Bayou
• Oaken Thicket
• Oasis
• Outback
• Peat Bog
• Rainforest
• Redwoods
• Shield
• Shrubland
• Steppe
• Subtropical Rainforest
• Temperate Rainforest
• Tropical Island
• Tropical Island Shore
• Tundra
• Wooded Mountain Peaks
Credits:
Credit to Draylar, for helping locate the classes which determine biomes. This mod would not have existed without them.
Credit to Daomephsta and B0undarybreaker for helping with mixins and fabric setup/updating

Credit to many others who helped me bring this mod into existence! I'm sure I forgot someone.
FAQ:
"Can you port this mod to forge?" Nope, sorry. It may be possible, but forge and fabric are quite different in how they operate and this mod relies on the use of fabric mixins. If you want to port it yourself, feel free to, though any derivatives must be under the LGPL v3 or GPL v3.
"I heard you mention something about "TheBiomeOverhaul 2.0.".. what is this about?" I am working on complete rewrite of the mod with much more controlled and powerful world generation features. It will take a while before it is complete. I will still be maintaining the 1.x versions, so don't worry :)
"How do I use the API?" I recommend seeing what I did in the Main class, and the DefaultBiomeLayers class. To add a "layer," use the addLayer method in BiomeLayersRevamped.
"I found a bug/have a feature request" Put it on the GitHub issue tracker please. That way I can keep track of what I need to do.
"May I use this in a fabric modpack?" Yes :)
My Discord Server: https://discord.gg/ecpxmjt
Please report any bugs found in the issue tracker.