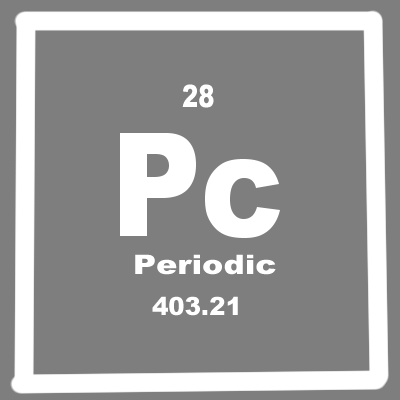 Periodic
Periodic mod Fabric
Elements from the periodic table in Minecraft >=1.16.2
REQUIRES FABRIC API
-
What is the purpose of this Mod?
This mod adds elements from the real world into minecraft, making the game, a bit more realistic
Features
Adds Uranium, Aluminium, Potassium, Steel and Silver
Uranium Tools
Aluminium Armour
Reinforced Variants of both
Potassium Lanterns
Find out more on the Wiki!
The Developers
NoComment1105, Mod Lead, Contributions
ItzChazzaa, Artist, Contributions
Hydra, Artist, Contributions
Versioning
This mod is >=1.16.2 at it's oldest. I am NOT going to back-port this mod to any older versions I will try my hardest to updates this mod, in its latest release at the time, within a week of the next version
THERE WILL NOT BE A FORGE VERSION.
-
Issues
If you have discovered an issue with my mod, please do not hesitate to ask anything in my Discord or leave an issue in my issue tracker but please check for a duplicate of your issue first, thanks :)
---
License
Periodic is licensed under GNU LGPLv3, which is a free and open-source license. If you want to know more, poke your nose in the license file
You may use my mod in a mod pack, providing you link to here or the GitHub Repository, or my account as credit