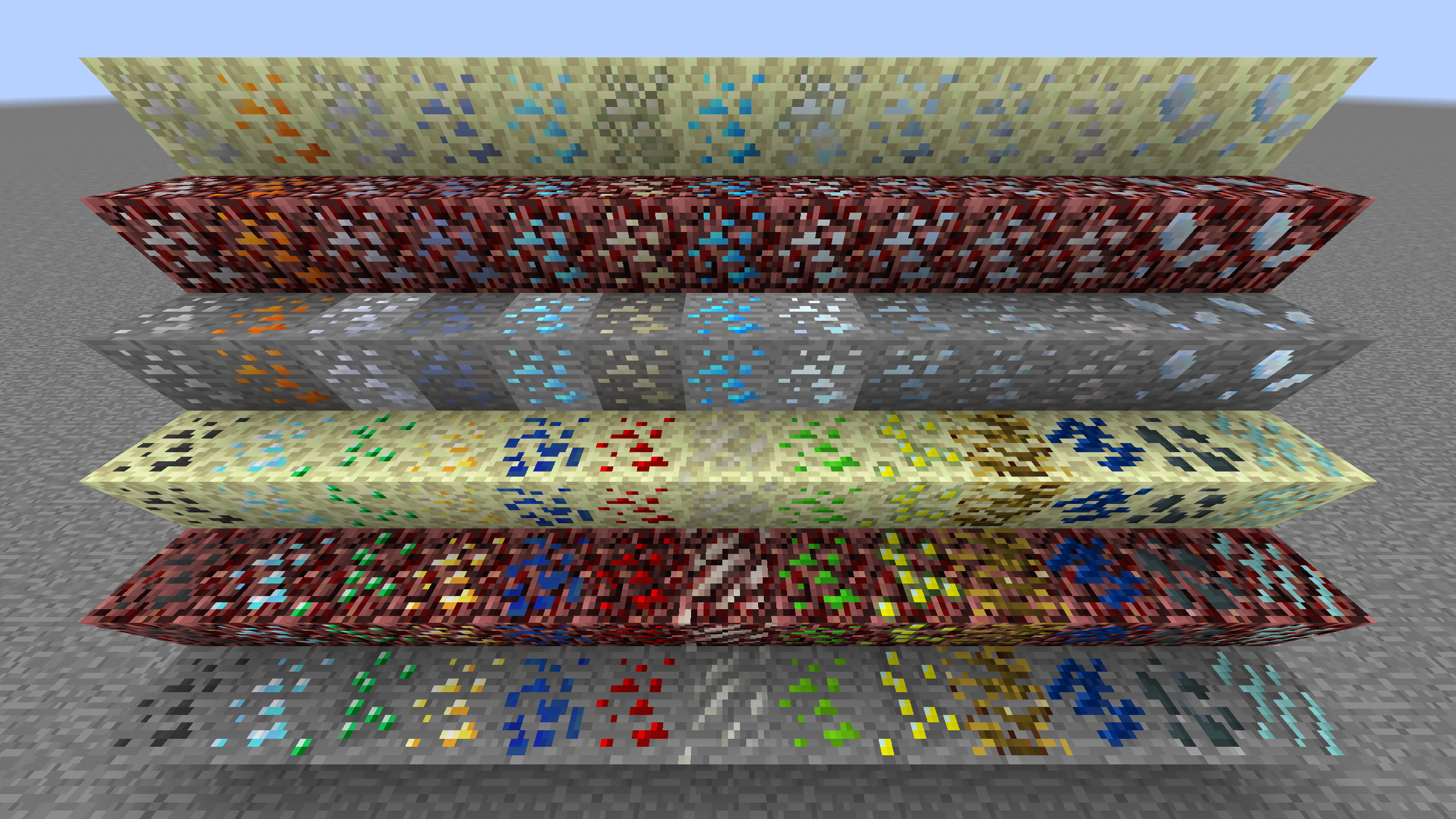 Overview
Yet another mod that adds ores and furnace conversion recipes to the Nether and the End.
Ore Generation
Other mods such as CoFH World will be needed to control the ore spawning. Sample configs are provided for CoFH World, check here (they in the process of being updated). Extract the ore generation configs from the provided zip file to config\cofh\world\ of your modpack instance in order to use them. Nether ore generation is based off config settings from the last release of the Nether Ores mod by skyboy026/powercrystals for MC 1.7.10. There are some minor changes, including adding ores that never existed in that mod. The End uses similar settings to the Nether but reduced size/count as the height range of naturally generated End Stone is far less.
Recipes
The furnace recipes to smelt the nether/end ores to the closest ore dictionary matching ore. The amount of ore block outputted varies based on the recipe multiplier in the config. Ores which do not originate in the Overworld, act like silk touched versions of their overworld ores recipe wise, this is done for balance but is reconfigurable.
Machine Processing
Basic recipes for Tinkers' Construct, Thermal Expansioon, IC2 and Mekanism are available to directly process the ores. Deeper support for more advanced recipes and machines will be added in a future update. Thermal Expansion recipes have config settings that can compensate for augments for balance. Integration can be disabled in the config if not wanted.
Ore List
The following is a list of currently supported ores, dimensions and ore graphics source.

Coal |

Nether

/

End

| Vanilla
Diamond |

Nether

/

End

| Vanilla
Emerald |

Nether

/

End

| Vanilla
Gold |

Nether

/

End

| Vanilla
Iron |

Nether

/

End

| Vanilla
Lapis |

Nether

/

End

| Vanilla
Redstone |

Nether

/

End

| Vanilla
Quartz | Overworld/

End

| Vanilla
Aluminum |

Nether

/

End

| Thermal Foundation
Copper |

Nether

/

End

| Thermal Foundation
Iridium |

Nether

/

End

| Thermal Foundation
Lead |

Nether

/

End

| Thermal Foundation
Mithril |

Nether

/

End

| Thermal Foundation
Nickel |

Nether

/

End

| Thermal Foundation
Platinum |

Nether

/

End

| Thermal Foundation
Silver |

Nether

/

End

| Thermal Foundation
Tin |

Nether

/

End

| Thermal Foundation
Certus Quartz |

Nether

/

End

| Applied Energistics
Charged Certus Quartz |

Nether

/

End

| Applied Energistics
Osmium |

Nether

/

End

| Mekanism
Uranium |

Nether

/

End

| Original art (based off iron)
Yellorite |

Nether

/

End

| Extreme Reactors
Zinc |

Nether

/

End

| Railcraft
Dilithium |

Nether

/

End

| Matter Overdrive
Tritanium |

Nether

/

End

| Matter Overdrive
Ardite | Overworld/

End

| Tinkers' Construct
Cobalt | Overworld/

End

| Tinkers' Construct