Nature's Debris
Nature's Debris is a mod for Minecraft 1.14.4, developed by Red Galaxy. This new but expansive mod adds a completely new dimension to Minecraft (and even more dimensions in the future) with a lot of exiting content.
---
Nature's Debris is being renamed from it's old name 'The Modernity'!!! It can be a bit confusing, as in the current stages it has two names. Remember: Nature's Debris is already the official name, but The Modernity may still refer to this mod. I strongly encourage everyone updating the name of the mod whereever they have it as soon as possible, AS THERE WILL EVENTUALLY BE A NEW MOD ASSIGNED TO THE OLD NAME! PLEASE DO THIS TO AVOID CONFUSION!!!
I'm updating all the names where I can as soon as I can, and it might cause some things not to work for a while. The currently released versions will persist under the old name but get archived as soon as I release a new update.<br> More on the rename later, and I'm very sorry if I already confused you with this: I'm ready to discuss all your points and answer all your questions on Discord.
Thanks!
---
Nature's Debris' universe is a dark and mysterious universe where the ancient forces of nature fused into a modern network of natural intelligence... In this world live the remnants of ancient civilization (nyi) that suffered from an angry curse that diffused all over the network, which now has the control over the complete world... Only a strong and tough person with a fresh soul could save the world.
The main dimension of Nature's Debris is the Murk Surface. The Murk Surface is an overworld-like dimension with plants, trees, lakes, animals (work in progress), fungi, caves and more... Go explore the mod and learn from new mechanics, obtain new items, place new blocks and discover the new and unique realm!
To enter the Murk Surface, you will need to find a portal building. These are small structures that generate in Dark Forest biomes in the Overworld. In these structures, you will find four exhausted Eyes of the Curse on top of the four corners of a portal frame. The eyes can be taken off by right clicking and drop an Eye of the Curse item (LOTR-fans: it's not Sauron's eye). These eyes must then be placed again on top of the four corners to light the portal. (I know, it's very easy, but I'm still developing and planned to revamp the dimension traveling in the near future.)
The idea of Nature's Debris had arisen from a small mod project that revamped the Nether and other dimensions. This project was never published, but this mod had a small cavernous dimension which was known under the name of The Modern Caves, later The Modernity. By the influence of inspiration coming from many other mods, especially the Betweenlands and later The Midnight, the Modernity got his own project. After a big rework, the Modernity eventually turned into a dark and murky surface world, and at last got renamed to Nature's Debris. That's where we are now!
(small hint: an upcoming mod will be named The Modernity again and will feature the old ideas of the Modernity which are cool too)
Currently, Nature's Debris only consists of the Murk Surface. More dimensions are planned, but not implemented yet. For actual news and interaction with our community, join us on Discord!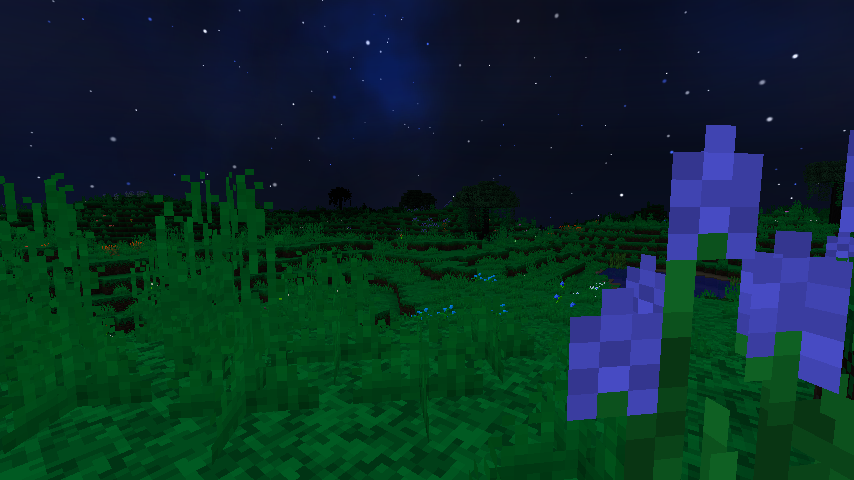 The current major version is the Update of Nature, where there changed a lot regarding nature and plants. I made a lot of technical changes and restructured many code. There is a new sound effect system and a lot of new textures.
Wiki
The wiki of this mod is very outdated and definitely needs updating. I don't have time to do this as I already do so much in this project, so I ask the community to do this. If you have some time, please write a few things there. Together we can keep the wiki up-to-date.
It also seemed like you needed a Fandom account to edit the wiki. This is now disabled and you should be able to edit the wiki anonymously. I hope this also helps growing the wiki ;).
Requirements
The current release requires Minecraft 1.14.4 and Forge 28.2.1 or higher (lower versions won't work).
Contribution
I (RGSW) am the only one working on this project and I'm trying to set up a little development team. Are you interested in Nature's Debris and do you want to help me creating and managing the project? Ask me, you're always welcome to become my first teammate! I appreciate (almost) every kind of contribution, as long as it's free. The following tasks are always appreciated:
Developing
Making sound effects
Managing the wiki
More information about contributing can be found here.
Links
Discord server: https://discord.gg/YvyzTFf
GitHub repo: https://github.com/RedGalaxyDev/NaturesDebris (issue tracker)
Wiki: https://the-modernity.fandom.com/
Credits
Project owner: Shadew
Code, Models and Textures: Shadew
Music (nyi): Cj Rhen & Shadew
Special thanks goes to Liahim85 (author of Salty Mod and Misty World) for support and helping to set up a small community. Also try his mods: they are pretty cool!
And thanks to everyone in the community for playing!
Full credit list on GitHub