Misty World:
This new dimension that seems quite normal at first glance. However, one detail stands out clearly against the general background. In the distant past, this world something terrible had happened, leaving the world was divided into two parts. One part remained habitable, while the second turned out to be shrouded in a toxic atmosphere deadly to humans. For thousands of years an acrid fog gnawed deep canyons in the earth's crust, at the bottom of which a strange and dangerous life has arisen.
You will contemplate the seas of the milky haze that enveloped the world, and meet dawns on the lonely islands of life that hold their ground in this long war.
To get to the dimension, you have to pass a small quest. Look into the achievements and, following step by step, you will finally open the portal to the Misty World.
Objectives:
The goal was to create a living, self-developing ecosystem, each element of which has its own life cycle and is closely related to the environment.
Features:
New dimension (2 in 1)
Toxic fog
5 climatic zones, plus a pair of special
Over 20 new mobs
Realistic tree growth
Moisturized and fertilized soil
Many small dungeons
Unusual flora and fauna (WIP)
In the plans:
More plants
Dungeons and other structures
Toxic downlands
!!! If you get a crash on startup, make sure the "skillFactor" parameter has three values in the config file. For example: D: skillFactor < 1.0 1.0 1.0 > !!!
Screenshots: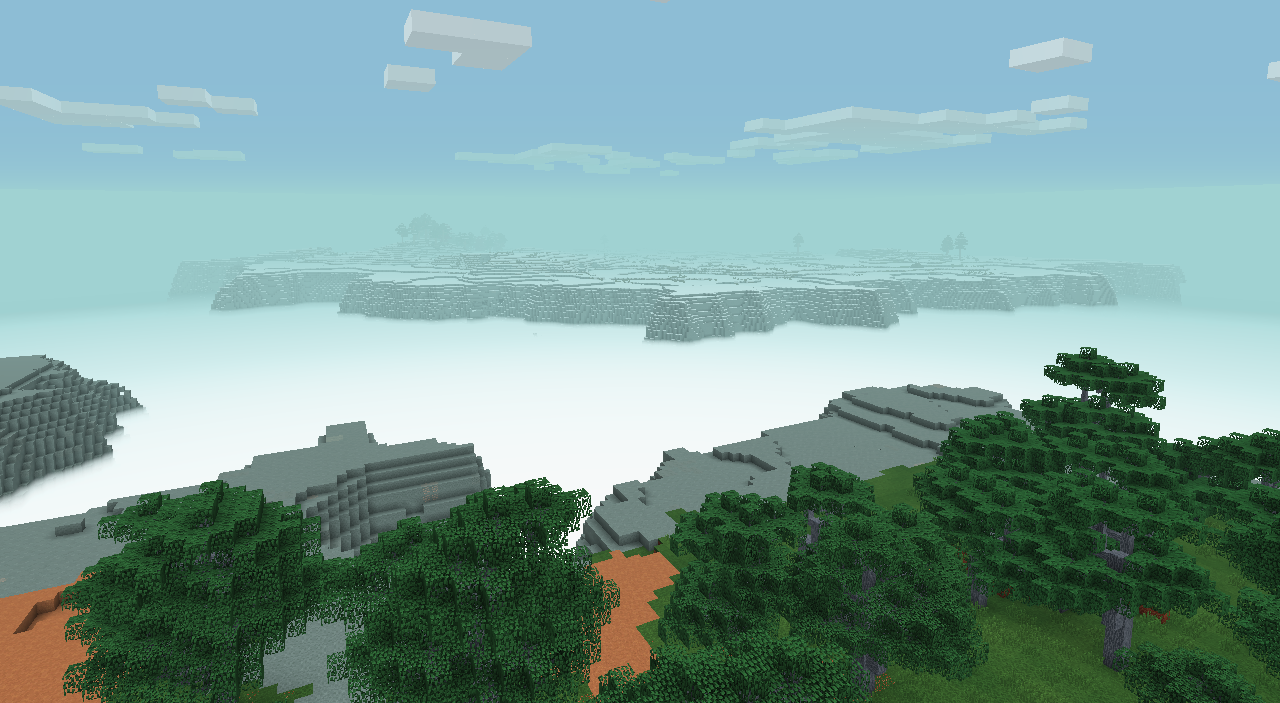 Mist

Mixed Forest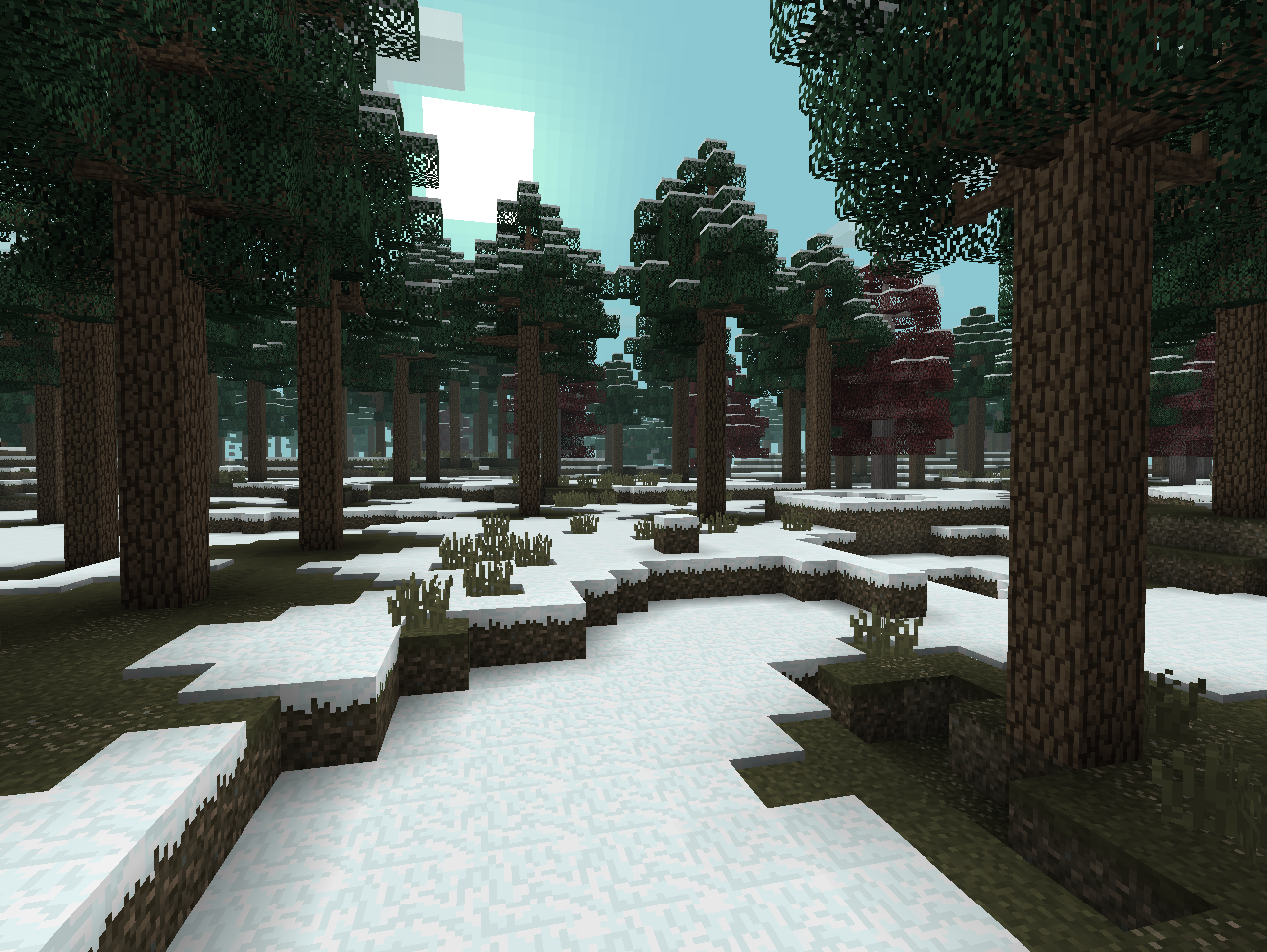 Taiga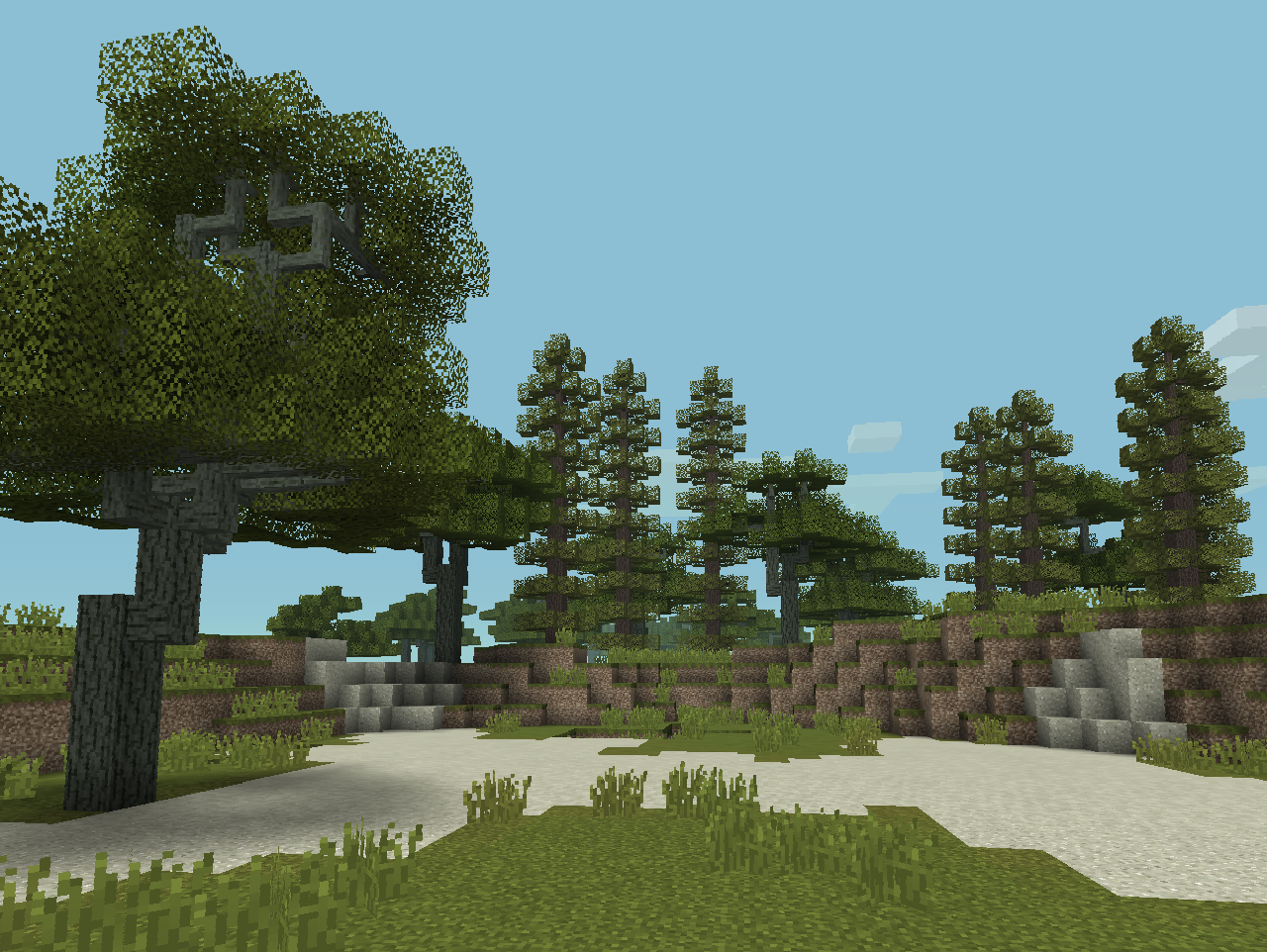 Savanna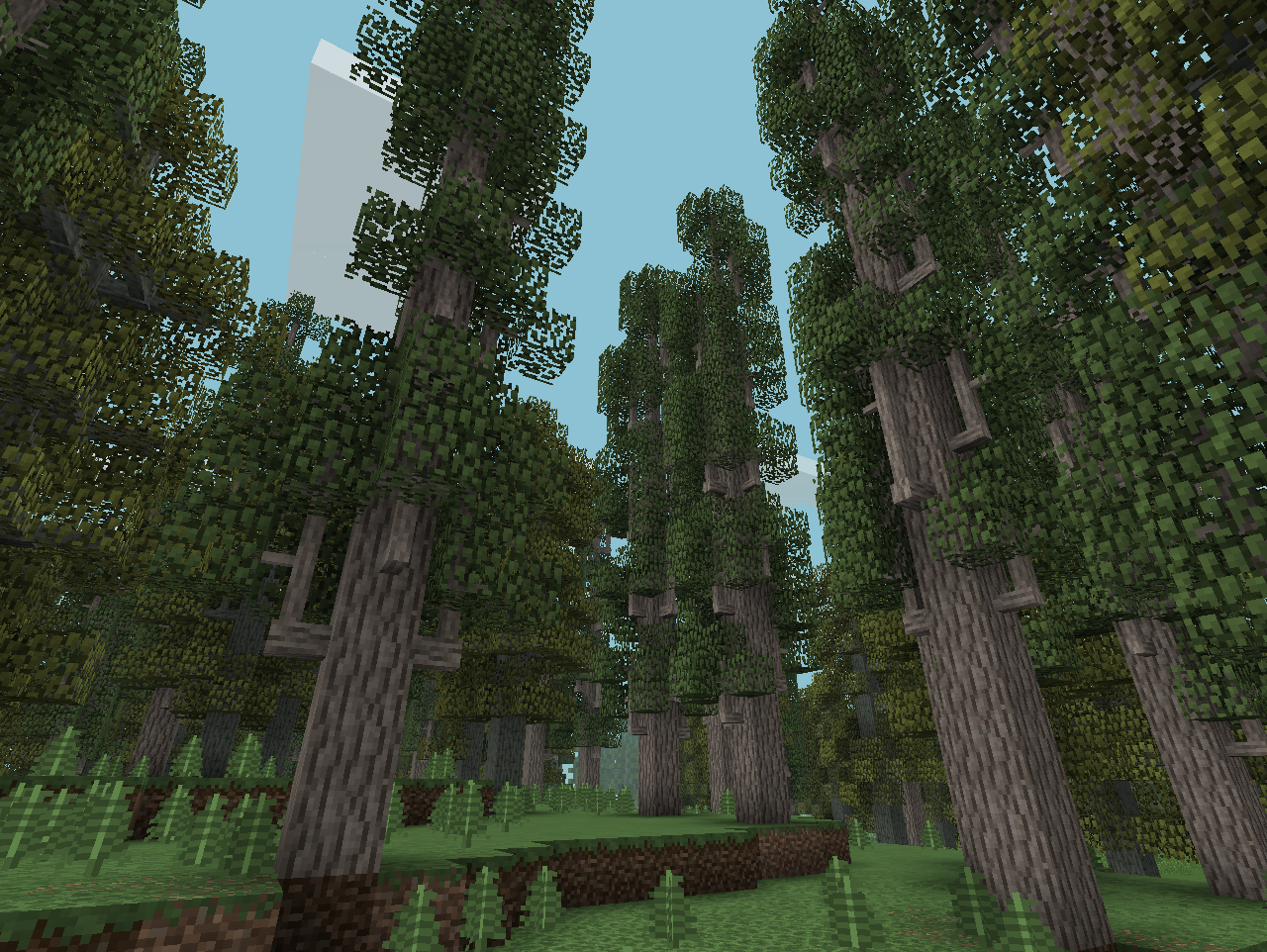 Swampy Forest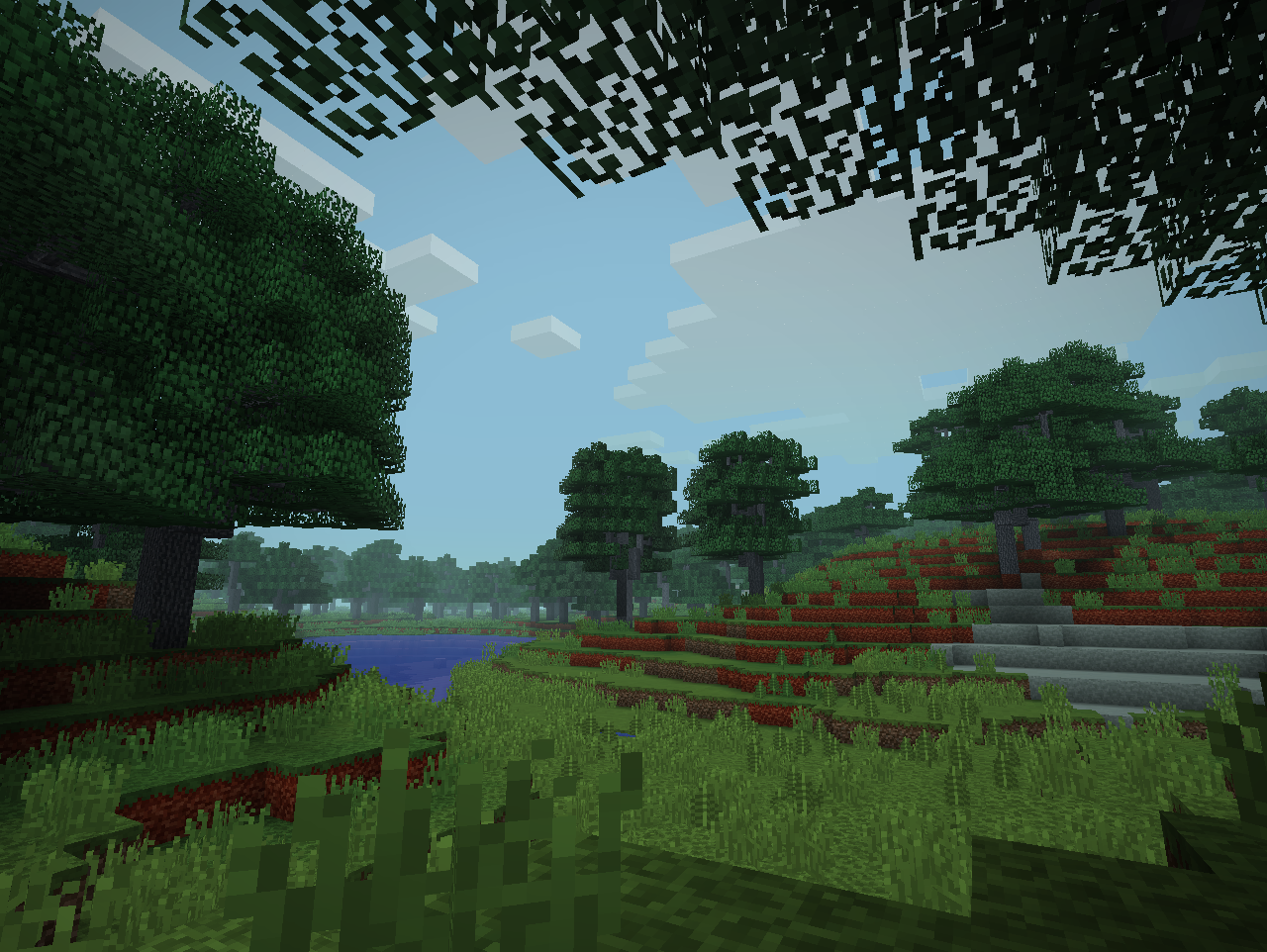 Jungle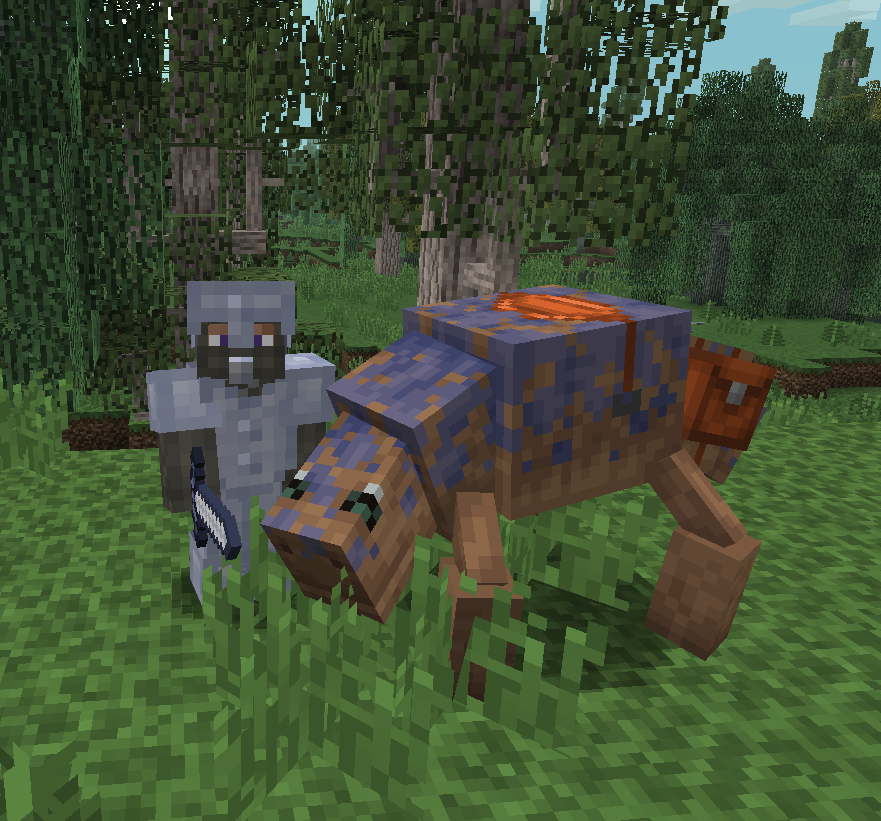 Mounts
Video Tutorial and Spotlight:
Changelog:
---
1.2.5.2 (Little Music Update)
- Finally there is a lot of good music! Thanks KlaafMC, razzmatazzBean and AlkamistNZ!

Besides:
- Added some ambient sound effects
- Added two new paintings
- Added the ability to get mossy variants of stone using humus
- Added the ability to speed up tree growth with bone meal! (disabled by default in settings)
- Added setting for saplings drop chance
- The Sniff can finally look for mycelium! The search radius is 128 blocks (256 blocks for the albino variant)
- Added commands for changing player effects and skills: /setmisteffects and /setmistskills
- Fixed incorrect calculation of fog concentration using the Gas Analyzer
- Fixed some bugs from the previous update
- Added new bugs
1.2.5.1 (Building Update)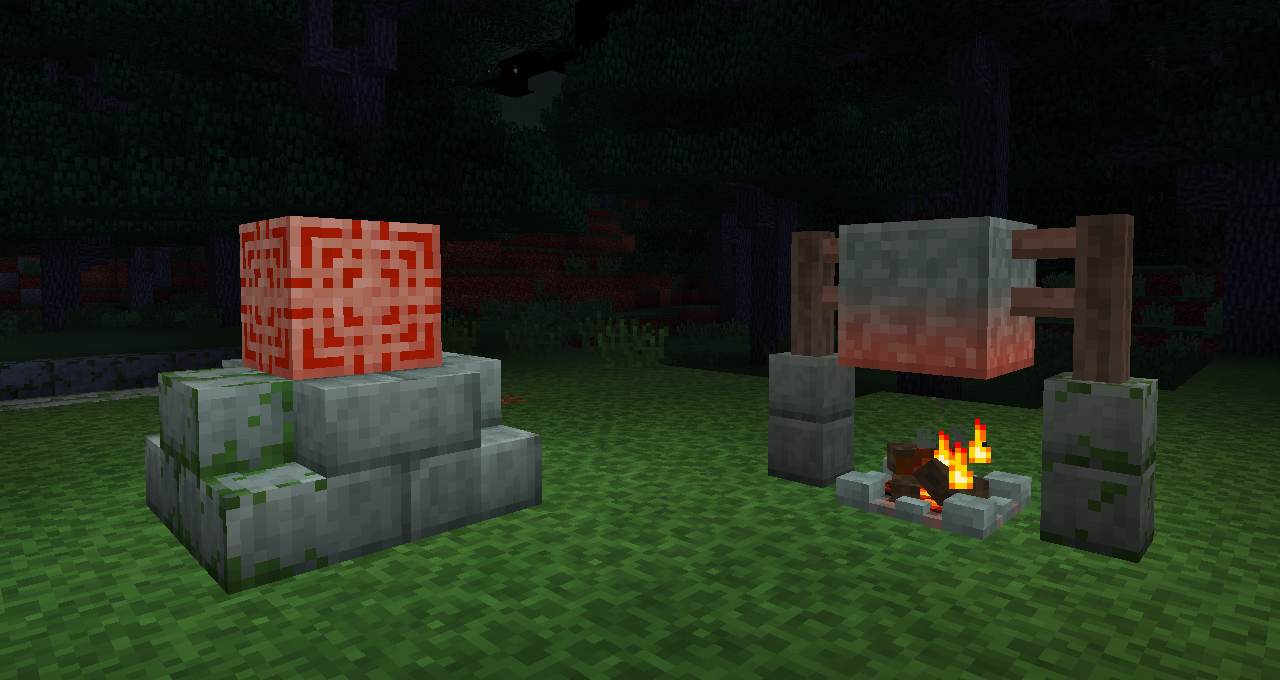 Hello!
I decided to make a small update that does not require mental effort to write, namely, decorative and construction. Everything else was too lazy to do, but the decoration is easy... I thought... Naturally, this update did not work out small. But as always...

IMPORTANT!!!
Before starting, delete the config-file or manually add one more unit to the "skillFactor" parameter, namely, like this:
D: skillFactor <
1.0
1.0
1.0
>
So! Let's go to the list!
- Added fences, gates, doors and trapdoors for all types of wood
- Fences can be crafted both on the workbench and right in the world by right-clicking on a felled tree branch with two sticks in hand
- Added niobium door and trapdoor
- Added stone bricks, stairs, etc.
- Added masonry block
- Added the ability to create vertical slabs! Yes, now one stone brick can be placed on top of another. At last!
- Added cobblestone and stone brick fences
- Added the ability to get Mined Foggy Stone... and split it!
- Added a stone processing skill corresponding to this action and several new advancements
- In connection with all of the above, the existing structures have been slightly changed
- Added niobium chisel. With its help, you can get a Chiseled Stone, as well as it will make it easy to disassemble composite blocks such as steps, slabs, etc.
- Added a couple of new paintings, and also slightly increased the chance of finding them
- Added some sound events
- Rewritten mechanism of appearance of Nightberry. Now it will be easier to find it...
- In addition, Bitter Pills have been added! Ask in all the old foundations ;)
- And finally, old bugs were fixed, new bugs added
Have a good game )
1.2.4.0 (Update of Life and Death)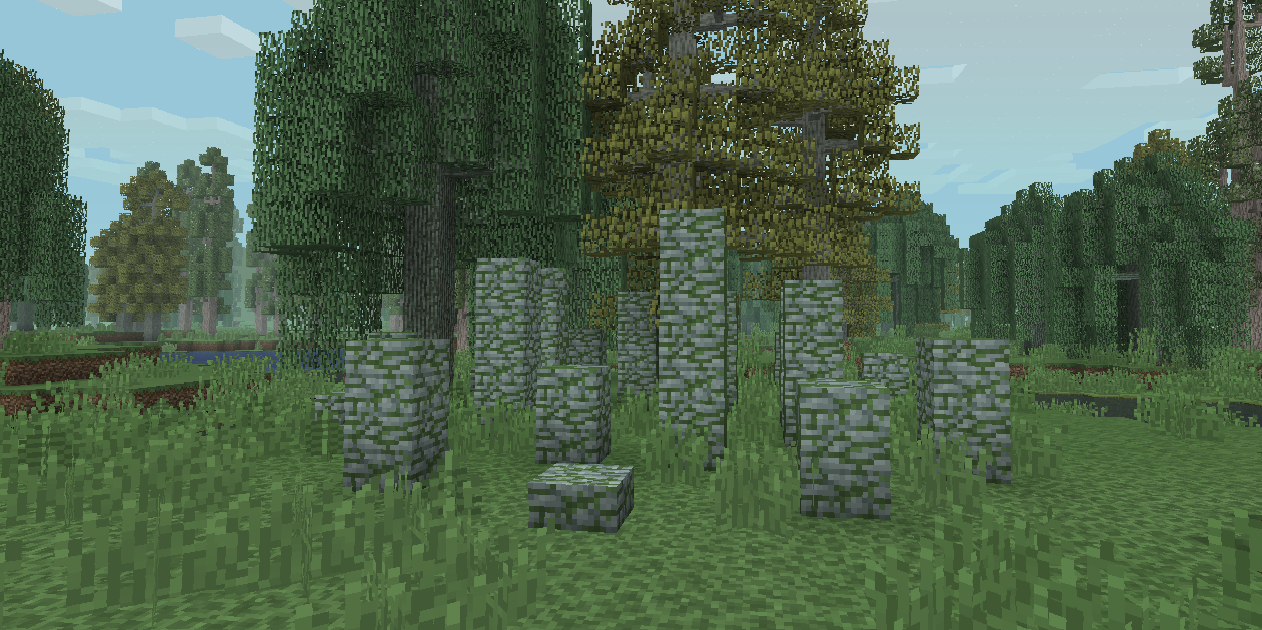 Hello everyone!

A long time ago there was no news from the Misty World, but this does not mean that the development was abandoned. All this long time I painstakingly put in place new elements, line by line, pixel by pixel. Finally it's time to introduce you another update!

Update of Life and Death.

I will not write any introductory words, the list of the changes will say everything for me. But I will make a reservation that this update affected only the upper areas. So!
Common:
- Added version control from forge
- Added in-game mod settings from forge
- A search box has been added to the creative tab. If desired, you can disable it
- The fog damage system has been completely rewritten
- Two effects that can be obtained in fog are added: Chemical Pollution and Intoxication
- Improved fog rendering: now it can be lit with a torch and falling shadows fall on it
- Two skills added: Taming and Cutting. The system of loot and taming is configured for them, so at first it will be hard
- Effects and skills can be seen by pressing a special button, the default is "I"
- Added some ambient sounds and the amazing track "Echolocation" by Redgalaxysw, which you can hear in the dark depths of the Misty World
- The advancements branch has lengthened slightly ;)

Generation:
- I dug caves and canyons for you. Now the area has become more diverse
- Rubber tree added
- Small structures added: wells, old foundations, altars, tombs
- Under the fog you can now find single-block acid pockets. Be careful
- Added several plants: Desert Cotton, Nightberry, Tinder Fungus
- Sulfur and Saltpeter ore added
Blocks and Items:
- Respirators are divided into two types: closed and open. Closed respirators interfere with food intake
- Added Foggy Stone Furnace and Niobium Chest
- Ceramic Urns and Old Paintings added
- Added seeds of all available trees. Some of them are edible. Can be planted in a Flower Pot
- Added Latex Pot
- Many new materials added: Remains, Tallow, Soap, Latex and Rubber
- Protective Suit added. Can be combined with regular armor
- Added Gas Analyzer
- Glass Container added
- Added a lot of animal food

Added a lot of new mobs:
- Mossling
- Forest Runner
- Momo
- Barvog
- Prickler
- Caravan
- Wulder
- Horb
- Sniff
- Sloth
- Monk
- Galaga
- Halter
- Brachiodon
- Grave Bug
- Forest Spider
- Swamp Crab
- Snow Flea
- Tropic Woodlouse
- Cyclops
- Desert Fish
- Mobs vary by gender. The process of bearing takes a certain time.

In general, a huge number of minor changes have been made...
Old bugs fixed, new bugs added :)

Happy survival to everyone! I hope this update helps you not to get bored during this difficult time of self-isolation ;)

!!! SPOILERS !!!
Further I will tell more detailed information.

Here is a list of mobs indicating the required level of Taming, what to tame and some other parameters:
- Mossling (II, Pink and Marsh mushrooms, can be sheared and saddled)
- Forest Runner (II, Forest Deceiver sapling, can be milked)
- Momo (I, Cup mushroom, can be saddled)
- Barvog (III, Sand and Tan mushrooms, can be saddled)
- Prickler (II, Lilac mushroom)
- Caravan (II, Sand and Tan mushrooms, can be milked, drops Tallow)
- Wulder (III, Snow Tree sapling, can be sheared, milked and saddled)
- Horb (II, Red and Orange mushrooms)
- Snuff (III, Purple mushroom, drops Tallow, according to the idea it should help to look for mycelium, but this has not yet been implemented)
- Sloth (III, saplings of the Swampy Poplar and the Weeping Tree, drops Tallow)
- Monk (VI, any meat, drops Tallow, can be saddled)
- Galaga (V, any meat, can be saddled)
- Halter (IV, any meat)
- Brachiodon (IV, Black and Spotted mushrooms, drops Tallow)

Breeding mobs, like many of the above actions, are available only after taming them, so I recommend not to neglect this skill!
In addition, mobs have short-term memory. If you hit or killed one, other mobs can temporarily change their attitude towards you, even if they were tamed.

I also recommend not to go past the old foundations. There you can find a lot of interesting things, for example, local detoxicants.

Speaking of intoxication, this will help you in the fight against it: raw Silver and Gold mushrooms, Tinder Fungus, Stone Tree seeds, Nightberry (an extremely rare berry that can be picked only at night in swamps), Swim Bladder of Desert Fish that can be found in clay lakes of the savanna or just Milk.
I also want to talk a little about the urns. They can be painted independently in two approaches. At the same time, in the second approach, you can add additional ingredients, such as: mulch, paper, stick, feather, string, bone or saltpeter, to get a specific pattern.
I almost forgot! The new furnace can be automated. This can be achieved using two of its features: the outgoing signal of the furnace corresponds to the value of its heating. In this case, the furnace automatically closes if its temperature is greater than or equal to the incoming signal of red stone.
alpha_c (Simple Food Update):
Added Niobium Nugget
Added 25 kinds of mushrooms and mycelium blocks
Added Campfire, Ash and Pottage
Fixed tree multiplication
The mechanism of realistic blooming of trees is introduced
Added stones on the ground
Added Flint and Stone )))
The ban on the growth of vanilla trees is made in the configuration file
Tall Grass can be grown with Bone Meal
The Working Portal Stone can now be obtained
Stones and mushrooms can be picked up by right-clicking
Saplings and mushrooms can be planted in a flower pot
Many other minor fixes
Wait a second... Campfire?!
Yes! The world now has a real working campfire!
To begin with, we need stones... Any stones. It can be ordinary rocks, cobblestone, flint, brick, etc. You can see (and change) the complete list in the configuration file.
Shift + right click on the ground and we have the base of the campfire... Inside, we put some wood. Voila! The Campfire are ready!
But is this all? No!
Near the campfire we can install a stick and put a piece of meat or mushroom on it )
Hmm... Did not you have an Iron Bars?
Put it on top and we have a grill! Right-click to put food on top, Shift + right click to take it.
Did you want something liquid?
This is not a problem, Shift + right click, we remove the grid and put the Cauldron on top!
Pour water and you can safely throw in it all that your heart desires )
Everything is lit up by an ordinary Flint and Steel or Flint and Stone )))
Bon Appetit!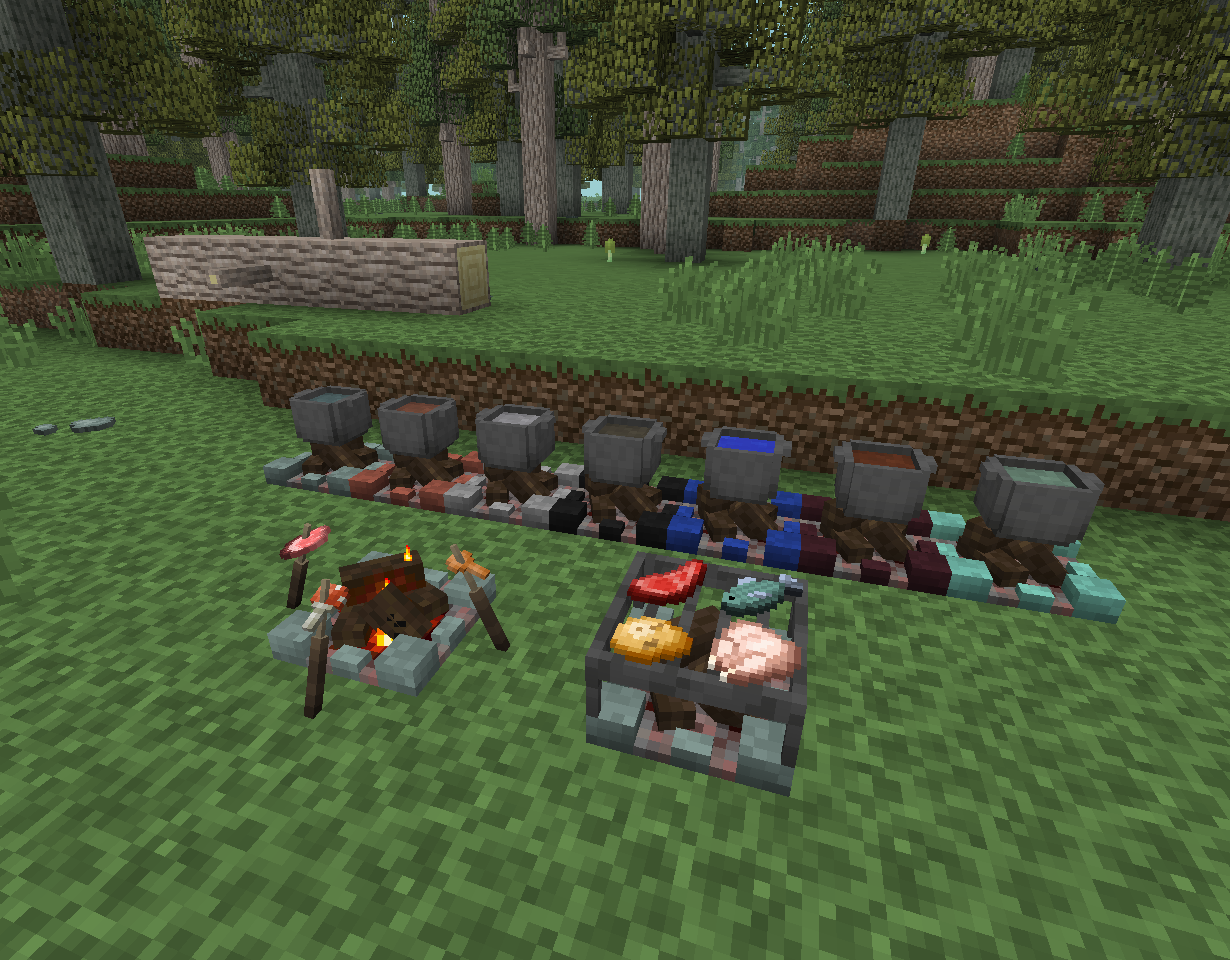 alpha_b (Ground Update):
Slightly rewritten mechanism of wetting/drying blocks
Sand made wettable block
Added blocks of red and acidic sand, clay, peat and sapropel (humus analog), as well as the generation of these blocks
Generation of swamp and dunes changed
Edges of canyons now look smoother
Changed the colors of many blocks on the map
The map now adequately shows the fog layer
The map created above the fog is different from the map created in the fog
Added generation of boulders and fallen trees
Tons of other minor fixes
alpha_a:
---
---
---
Other Info:
---
Discord server
Warnings:
There may be conflicts with other mods that add biomes or change the time.
Due to the nature of generation and the need to remove large amounts of water, some areas may be loaded for a long time. It is recommended not to turn off the game until the process is complete. Otherwise, the terrain can be generated incorrectly.
Recommended allocated RAM 2GB or more.
Recommended range of visibility is 12-16 chunks. At smaller distances due to the change in the type of fog, the picture on the screen may not be as beautiful as it was intended )))
The picture was not tested with external shaders! Please disconnect them when you first get to know the world )
Work fine with Optifine )
FAQ:
Q. I will receive the achievement "Full Set", but I lost the stones. What to do?
A. Stones can be obtained again, but only during a thunderstorm and with a 1/10 chance.

Q. I can't understand how to build a portal.
A. Read the description of the stones in the inventory.

Q. I received the achievement "The Right Choice!". What should I do next?
A. Congratulations! And I'm sorry... You have two choices: 1 - go back and try to open the portal in another place at a distance of about 500 blocks from the first. 2 - go back, delete the folder with the world, change the world seed in the configuration file and re-enter the portal.

Q. I do not understand how to accomplish the achievement of "Night Walk".
A. What you are looking for is at the bottom... Walk along the edge, and sooner or later you will find :)

Q. How to accomplish the " One Important Thing" achievement?
A. To open the inventory of the mask, shift-click the right mouse button. But what filter to use you will find out only having received the achievement "More Expensive than Gold " :)

Q. I can't create a compost heap.
A. To do this, hold Shift and press the RMB on the block of soil with any biomaterial in hand. However, pay attention to the fact that two or more sides of the heap should be full blocks. As a biomaterial, vegetables, grass, leaves, or compost are suitable.

Q. Judging by the description of the achievements "You Can Live" in the world there are more absorbent?
A. Yeah! But their search I leave on you )))

Q. How do I get saplings of trees?
A. In order to obtain a tree seedling, you need to cut thin branches with leaves. The more leaves on the branch, the higher the chance of sapling.
---
Mod Pack Policy:
You have permission to include the Mysty World in any mod pack, as long as the following conditions are met:
Provide a link to this forum post
Properly credit the author, Liahim85
You cannot make any money off of the mod pack
Remove the mod from your pack if I specifically request it
P.S. I will be pleased to see screenshots of the structures built by you in a Misty World )))
Also try: SaltyMod, Masonry Blocks & Authentic Shadows
And my new game: 26-PUZZLE !!!
Credits: