Long Fall Boots

Boots that negate all fall damage when you wear them.

That's it, plain and simple.

Inspired by the Long Fall Boots found in the game, Portal

Recipe: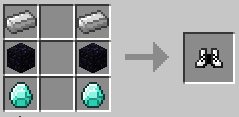 Hard Mode recipe is the same, but Blocks instead of ingots and a nether star in the bottom middle slot <3 Disabled in 1.12+, though.

GitHub/issues here. Wiki here.