Infectum is a mod all about infection and monsters. This mod is still in development and some of the items still don't have any uses but in future updates I will give them uses. If you have any suggestions or find any bugs, leave me a comment! :)
First trailer:
Update 1.7, added new dungeons, bosses and mobs to fight, as well as some lore...
Cultist walkthrough part 1:
Update 1.6, added cult related items, a pet and mount entities, along with cult ruins that spawn in plains biomes.
Update 1.5 , added post-overlord bosses and the infectious biome.
cult items: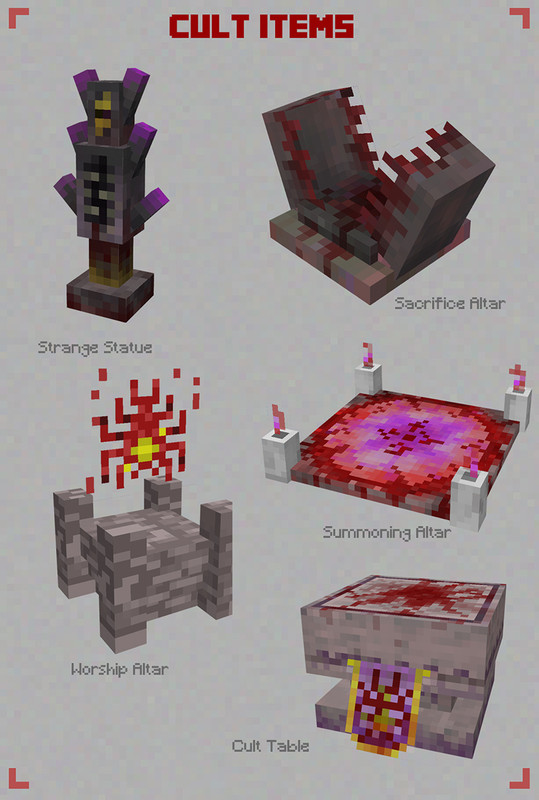 Strange Statue:

Placing a strange statue will cause you to become a cultist. It can be found in most cult ruins. (More about ruins and the cultist thing later) If you are a cultist, infectoids will not be hostile towards you.
Sacrifice Altar:
The sacrifice altar kills all mobs (yes, including players [hohoho mild trolling commin] and xp orbs) after the mob is killed it will drop infectoid fangs, rotten flesh and rarely, emeralds or diamonds. Each sacrifice gives 5 cult points. It needs to be placed on a cult table to work.
Summoning Altar:
The summoning altar needs to have 4 candles around it (horizontally and vertically, not diagonally) before it can be activated with a bottle of souls.
Worship altar:
Right clicking this altar will summon a worship task. You can punch it 10 times or get a pet to attack it a few times in order to complete the task. Completing the task will give 10 cult points.
Cult table:
The cult table can be used as a decoration block. The sacrifice altar needs to be placed on the cult table. (Other than that, it has no use.)
Cult equipment: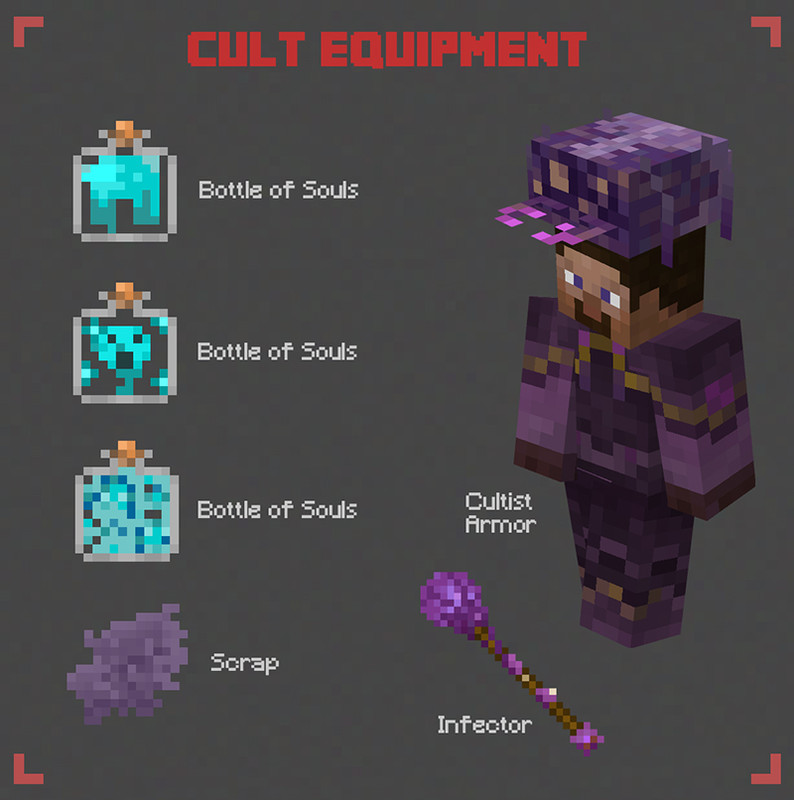 Bottle of souls:

Tier 1: The tier bottle of souls needs 50 cult points in order to be used. It will summon a few tameable small infectoids.
Tier 2: The tier bottle of souls needs 75 cult points in order to be used. It will summon a few infectoid beetles and a rideable infectoid beetle queen.
Tier 3: The tier bottle of souls needs 100 cult points in order to be used. It will summon either a tameable infectoid worm, queen, or bomber.
Scrap:
Scrap is obtained by right clicking a converter block with leather. The leather will be turned into a piece of scrap. (no image for converter block ;-;)
Infector:
The Infector wand shoots infected biome blocks, allowing you to convert biomes into an infected biome. It has 100 durability.
Cult armor:
The cult armor has a chestplate, leggings, and boots, and the infectoid hat replaces the helmet. The hat gives strength 2 when worn.
Cultist summons: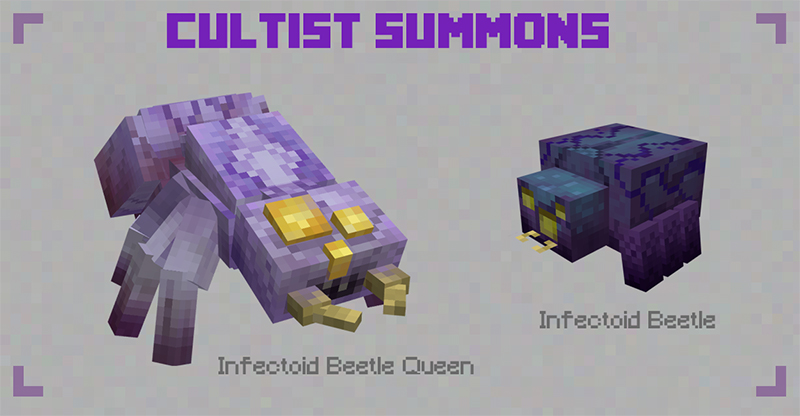 Infectoid Beetle Queen:
The Infectoid Beetle Queen is a smaller Infectoid Queen. It is also rideable and tameable. It is summoned with a tier 2 bottle of souls.
Infectoid Beetle
The Infectoid Beetle is a support/fighter mob which can be tamed to help you fight. It is summoned with a tier 2 bottle of souls.
Cult ruins: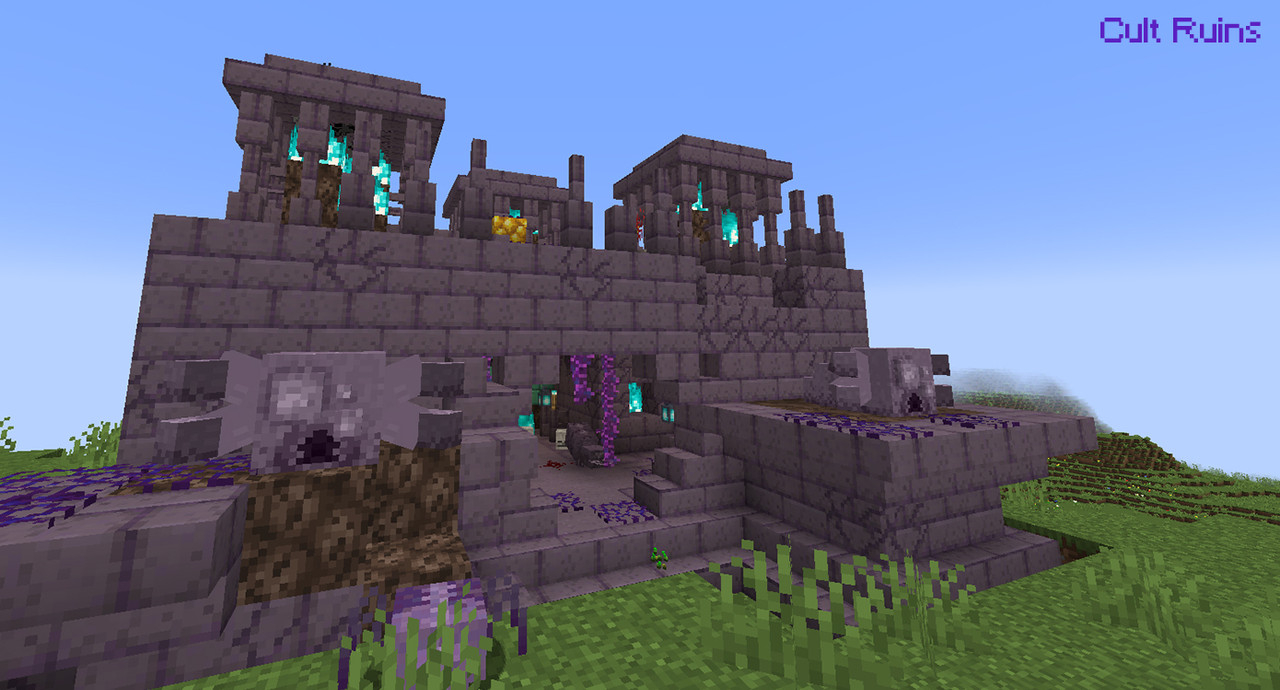 There are many different types of cult ruins. Some of them contain cult items such as sacrifice altars or worship altars. You may even find the 1 in 10000 ruined cult city! (note: all ruins only spawn in plains biomes.)

Mobs and bosses:
THIS CHUNKY ASSHOLE WAS SO HARD TO MAKE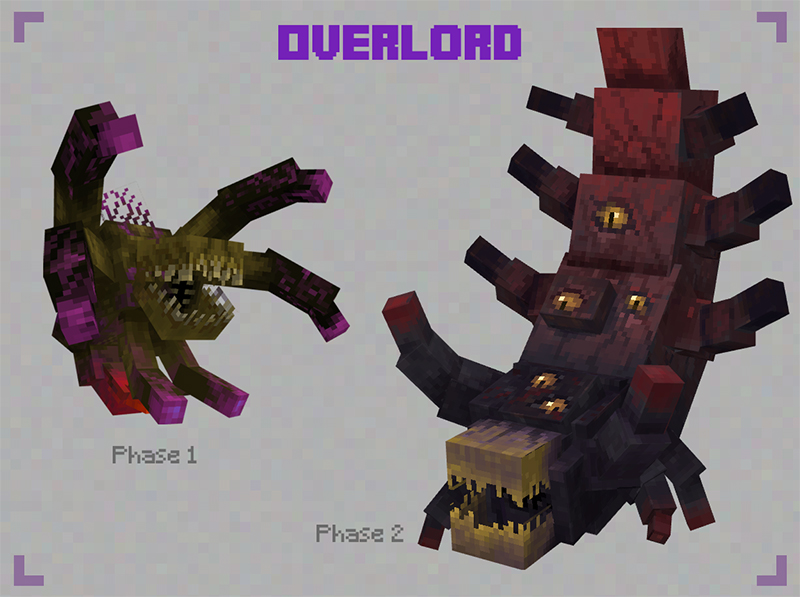 Overlord:
The overlord is a big and mean boss, which has a 10% chance of spawning with each astral runestone used, and has a guaranteed 100% chance of spawning when using a strange astral runestone, which is crafted with the 3 strange artifacts and an astral runestone. It has 300 health points, up to 30 ranged damage and 9 melee damage, and 5 armor points. It has 3 different attacks. After killing the small overlord, it will spawn the true overlord. Get ready for a tough fight, because it has 500 hp and 30 armor points, and can deal up to 20 damage!
Overlord items: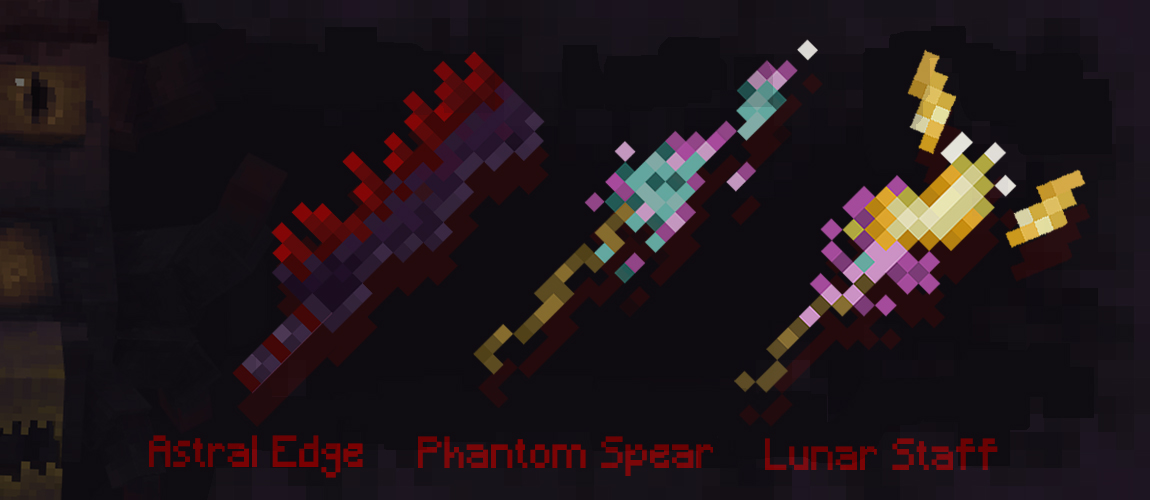 The overlord drops 3 new items, which are the Astral edge, Phantom spear, and the lunar staff, which are upgrades to the infectious weapons. The astral edge deals 36 damage and has a AOE damage ability triggered with right click.
The Phantom spear deals 13 damage and when right clicked, will summon a projectile which deals 5 ranged damage and 5 knockback. The Lunar staff does 13 melee damage, and when right clicked, summons a ring of shulker bullets and summons
a spectral arrow.
Infectoids: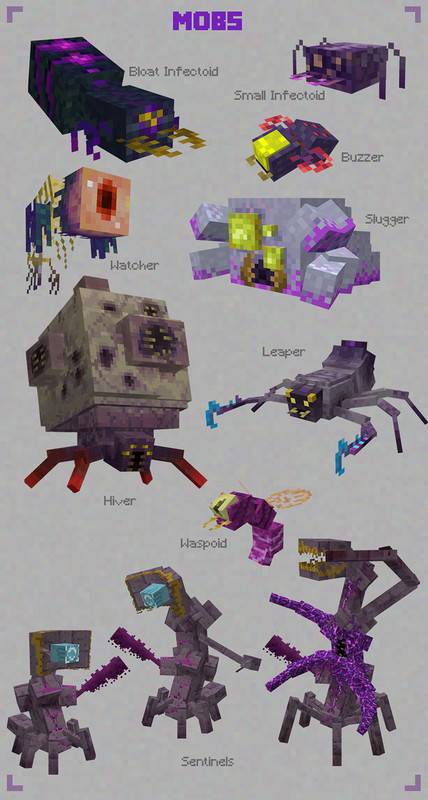 Small Infectoids, Bloat Infectoids , and Buzzers:
These mobs are the most basic infectoids in the mod. They have the lowest health of all the mobs and deal the least damage.
When bloat infectoids kills an animal. it spawns a leaper.
Watcher:
The watcher is a support enemy that summons blinding tracking missiles when hit.
Slugger:
Sluggers are mobs that spread infected blocks as they move. It is best to kill it as fast as you can when you see one. They spawn Hivers when they kill animals.
Waspoids:
Waspoids are larger wasp-like infectoids. They are evolved from buzzers, and are much stronger than their smaller counterparts.
Leapers and Hivers:
Hivers are like sluggers, but spawn lots of infectoids when hit. Leapers are fast, spider-like enemies that spit poison balls when they land from a jump or when hit.
Sentinels:
The sentinels do not spawn naturally, and can only be found in the dungeon at X0 Y0. They come in 3 tiers, each stronger than the last. The third tier sentinel guards a chest.
Mini-bosses: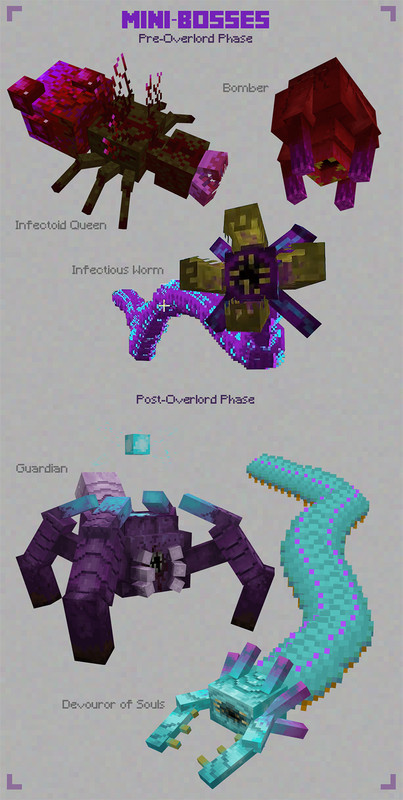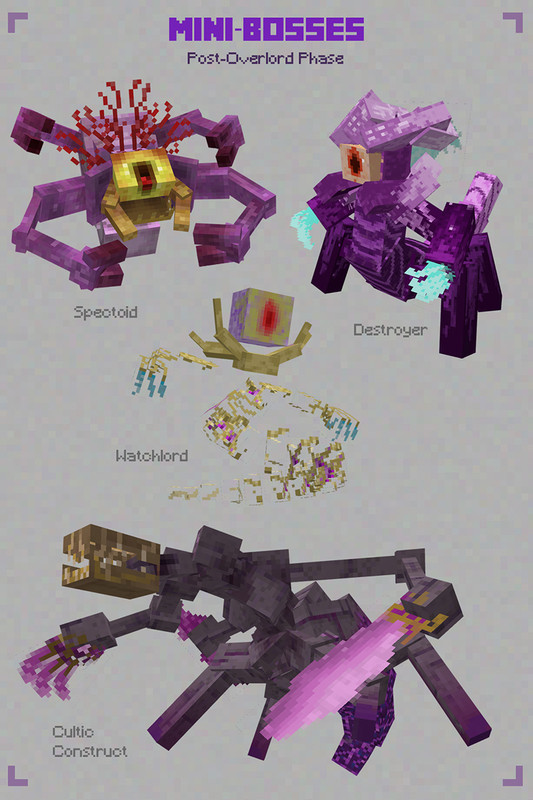 The Infectoid Queen, bomber, and infectoid worms a pre-overlord bosses, meaning they spawn naturally before the overlord is killed. They can also be summoned with astral runestones.
Infectoid Queen:
The infectoid Queen lays eggs that spawn either a hiver or a leaper. It has regeneration 1.
Bomber:
The bomber is a flying hot air balloon-like enemy that shoots bombs that explode after a few seconds. The bombs can be killed and thrown back at the bomber to deal damage.
Infectious worm:
The infectious worm is a flying worm enemy. You can only hurt it by hitting its head.
The guardian and devourer of souls are post-overlord bosses. They need a soul caller to be summoned.

Guardian :


The Guardian is hard to kill as when you run away from it, it shoots soul projectiles at you. When you hit it, it gains speed and strength.


Devourer of Souls :

This worm enemy can only be hit in the head. When hit, it spawns 4 tracking mini-worms that explode when they hit the player.
Spectoid:
The spectoid is a ghostly infectoid found in the central dungeon's library, which requires a bit of digging to find. It is not an easy bos to fight, as it can teleport behind the player and slow them with webs at will.
Destroyer:
The destroyer is a very hard boss to fight, for it attacks upon sight of the player. It can dash, shoot destructive tracking missiles, and slash the player with its large claws.
Watchlord:
The Watchlord evolves from a watcher, and It is quite a strong boss. It spawns not only blinding missiles, but also explosive ones. It also sprays evocation fangs upon seeing the player.
Cultic Construct:
The cultic construct is a unnatural creation made from cultic bricks, leaper claws, and infected blocks. It can spread infection, shoot missiles, and dash towards the player when hit. It can be found in a large dungeon located at X 0 Y 0.
Infected Biome: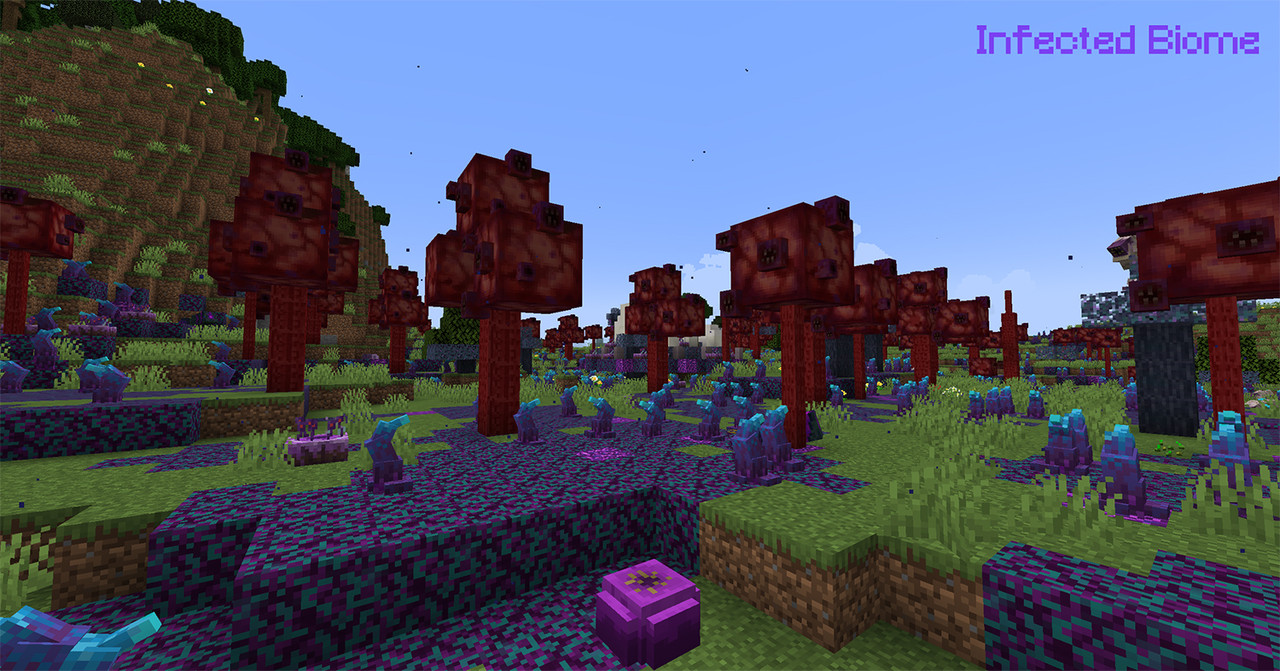 The infected biome spreads when the overlord's dead body is killed. It spreads via spores from infectious maws. Activating sensors near bulbs will cause the bulbs to explode into sentries.
Infectoid items:
These are the items currently in the mod, but more will be added later. The pure shard reduces points by fifty. (+100 points = next phase of infection (+50 points every time you wake up)
Update: (3 August 2022) This is just a small update with weapons, a new set of armor, and a bush.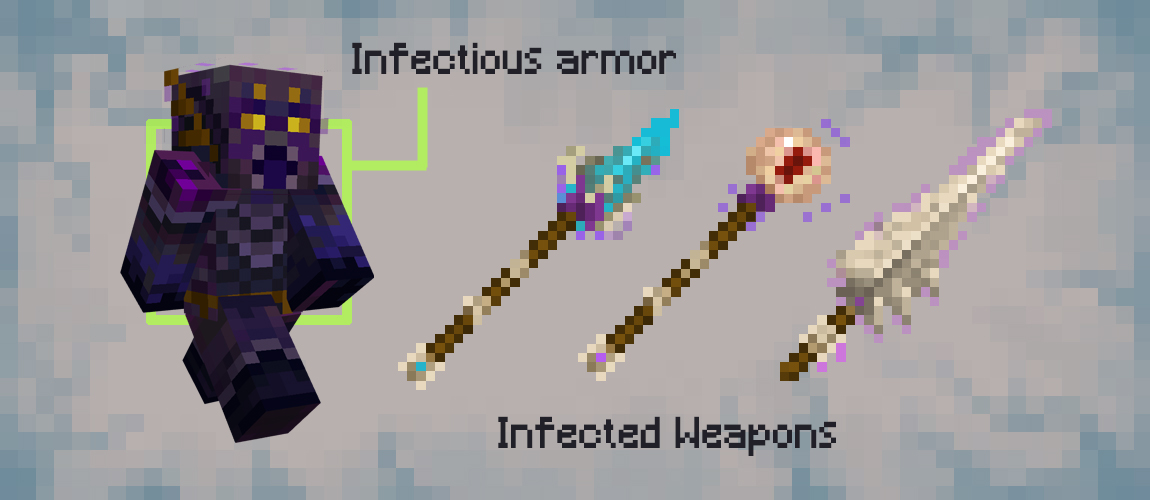 The armor is crafted from infectious hide which is dropped from infectoids. The armor decreases the detection range of all nearby mobs by 30%.
The infected spear has 1.4 attack speed and 18 attack damage. It has 100 durability.
The infected staff is a magic-based weapon. It consumes 1 level of xp per use and creates a blast around the player after 2 seconds of being used.
The infected sword has 0.9 attack speed and deals 24 attack damage. It also has 100 durability.
Phases:
Phases are advanced through sleeping.
Phase 1: All infectoid eggs will hatch into buzzers.
Phase 2: Small infectoids can spawn naturally.
phase 3: Bloat infectoids, sluggers, and tentacles, along with small pillars of infected blocks will spawn everywhere.
Phase 4: Leapers and hivers will spawn naturally.
Phase 5: pre overlord bosses will spawn naturally.
Infection Timelapse: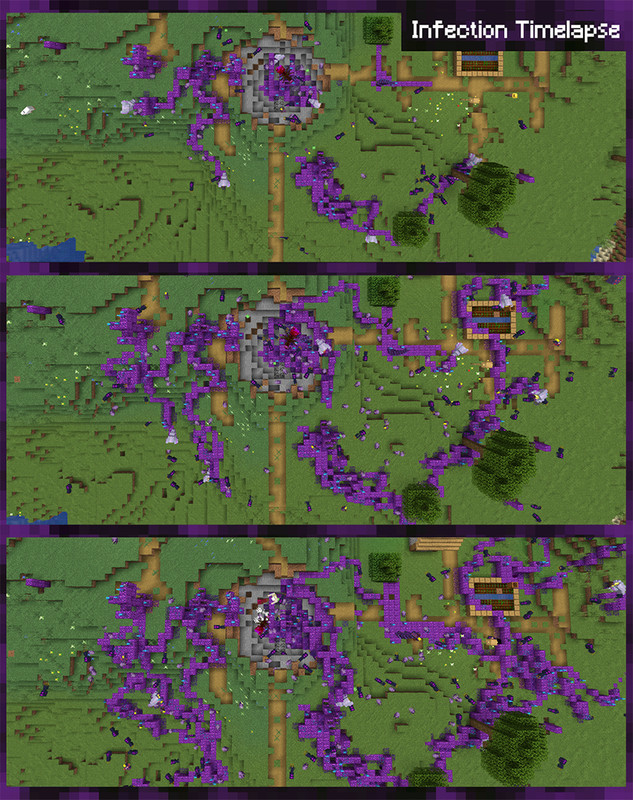 As you can see in these pictures, the infection will spread from the crater where the meteor lands.
Have f̶̛͍͙̖͍̭̙̮̮̀͌͐̅̅̈́̅͑̄̈́̀̀̒͗͊̔̕͠ų̴̢̭̣̖̘̦̲̘̙̩̬̮̘̩͉̆͒̀̃̀̎̎̇̓ͅn̴̨̨̝̗͇̝͚͎͔̩͇̹̮̞͉̑̑͠ͅͅ and don't D̵̨̖̪͉͖͍͙͖̹̣͉̯̰̞̼̓͆͋͛̇̈́̅͋̈́̽͗̎̔͘̚͜Í̷̡̺͚͔͍̰͔͔͙͕̣̮͎̫̜̹̰̦͎̜͖̺̟͚̫̞̭̩͕̫̖̭̗̥͓̦̱͉̒̐̔̌̈́̊͛̈́̀̓͐̍̽̈́̓̌̓͆̈̓͊̄̚͜͠͝͝͝E̶̢̖͍̦͉̟͓̜̠̭̘͚̫̰͇̯̺͖̟̺͕̰̗̖̅̎͆͐̀̈̑̅̓͂̽̔̿͆͌͗́̀̅́̐̂̾̌̎̄̽̕̕̕̚͜͝͝ͅͅͅ