It's the Froggy Chair from Animal Crossing.
How does one obtain Froggy Chair?
You can either find a Froggy Chair in a village chest, or craft one by surrounding a Bell with Lily pads.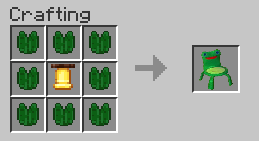 Known Bugs:
- Occasoinally, you may get stuck when trying to sit in a Froggy Chair. This can be fixed by relogging.
- Sitting doesn't always sync properly in multiplayer.
This is the first mod I've made and unfortunately I don't know how to fix those bugs.