---
A by-product of my first venture into 1.14 modding, Extra Enrichments adds in new weapons, food, and more that aim to fit in with vanilla and enhance its already existing features.
Hold on! Before you read any further, know that redstone paste is crafted by using redstone on a cauldron filled with water.
Why did you need to know that? Because there is virtually no in-game documentation for it yet, that's why! Just figured I'd let you know here so that you won't be left in the dark about it.
At this early stage, the mod has little content, but more will definitely be added in the future. Here's what the mod has so far:
Additional bow tiers! Now you can craft more durable versions of the beloved bow that will see you through in combat. Some of them even have special features!
Extended cooking, which is a fancy phrase meaning "more food items, but with a focus on improving what's already in vanilla." This includes dishes involving sweet berries, caramel, and more! The aim is to provide more variety in high-tier foods while still keeping things reasonable.
More music discs! By getting a pillager to kill a creeper, you can obtain extra records to play in your jukebox. The range on these extends indefinitely; it's not a bug, it's a feature.*
Friendly fire is now disabled! No longer will you need to fret about accidentally hitting your canine companion during a heated match or sniping your parrot during a duel (as long as you aren't using explosives, of course). Keep in mind that this does not make your pets invulnerable, you merely cannot attack them.
Significant combat changes! Like in the combat snapshot, cooldown now affects your critical hits instead of attack damage! To compensate for this, invulnerability periods are now based off of attack speed. In the future, this means that hoes will be able to attack super-fast, but for now, it simply means that axes won't be overpowered. Also, cooldown affects your enchanted damage output, too. For now, pretend it's not a bug and instead a feature.*
Cave decorations! Whether it's vines and moss in the jungle or ice and snow in the tundra, caving just got spiced up a little more.
New spawning behavior, including illusioners spawning naturally in the roofed forest.
Everyone is configurable! All of the features of this mod can be turned on and off independently through the config files.
*actually a bug
As of now, the mod is in an early state, so please, please report any bugs you find.
It is advised that you download JEI or another recipe mod in order to have a full list of items and their recipes*
*except for redstone paste, which is crafted by using redstone on a cauldron filled with water
Pictures go here so I won't be deprived of clicktures: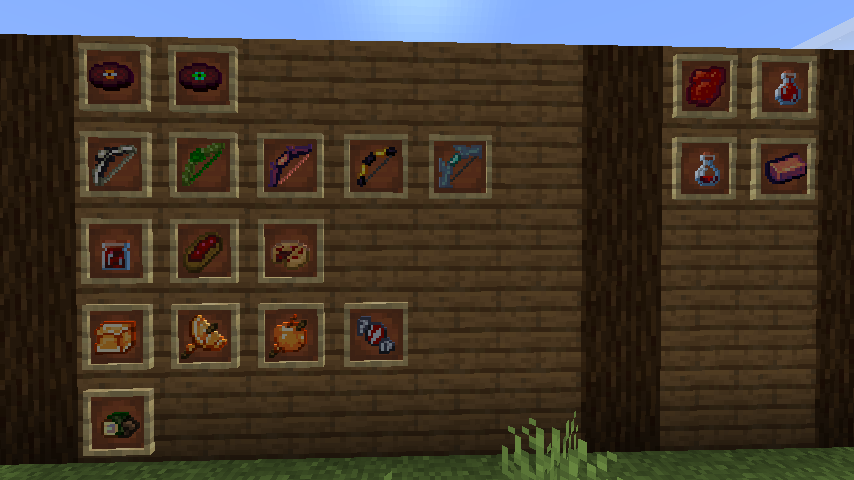 ---