This project has been abandoned.
I didn't really like this implementation that much, so I'm no longer maintaining this project. I'm currently considering a spiritual successor at some point, but I have no ETA on that.
Overview
Clear Despawn is a mod that makes dropped items flash when they're about to despawn. By default, this happens when the item has about 20 seconds left until despawn and the flashing gradually gets faster as the timer goes down. Both of these elements have configuration options.
This mod is client-side only.
There's not much else to say, so here's an example gif: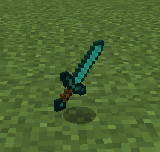 Configuration Options
Time for Flashing - The number of seconds the item has left before despawn to start flashing (default: 20)
Urgent Flashing - Set to true to have the item flash faster as it gets closer to despawning (default: true)