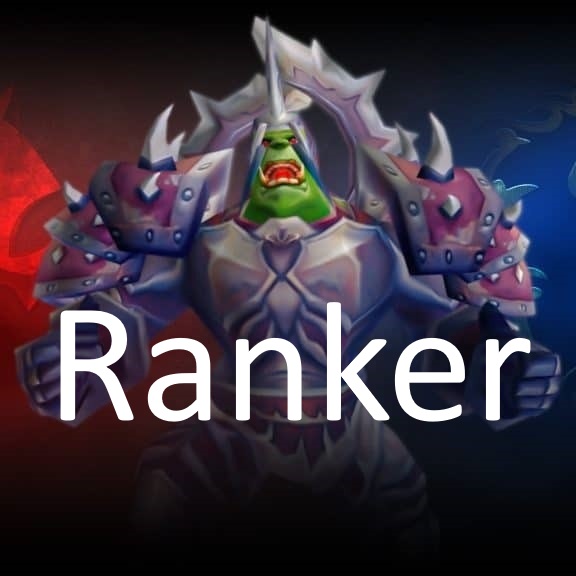 Ranker: your helper through the Classic Era PvP honor system
With the 1.14.4 Classic Era patch, honor gets converted to contribution points based on a curve.
We know that the maximum amount of contribution points gets awarded to obtaining 500,000 honor at the highest rank.
The details and math behind the full conversion curve well understood by now.
Rank predictions by Ranker are accurate within +-0.20% (a Blizzard bug since at least 2019).
Download and use it, and tell your friends to use it too!

Features
Open the honor pane and click the Show Ranker button on the top, or use the /rank or /ranker commands, and see what your predicted rank and progress will be after the weekly reset.
The user interface is compatible with the default Blizzard UI and with ElvUI, and can shown or hidden by using a button on top of your Honor pane (default key binding H).
You can configure whether or not you want the Ranker pane to automatically show when the Honor pane is shown. Go to the addon configuration directly by using the /ranker config command.
Define your objective rank and your honor limit, or use the defaults (rank 14 and 500k honor).
Understand how much you can progress based on how much honor is required for each progression point.
Understand how much honor is needed to avoid decay (if you have any progress in your current rank and lack enough honor to prevent decay)
View a simple path to your objective rank, taking into account your current honor, and your honor limit.
Enable "what if" scenario modeling to understand what your path would look like if you were a specific rank and progress. Type in a number between 0.00% and 99.99%, or use the up/down and left/right to change the number by 0.01 or by 1.00 increments. Click the button again, or close and open the pane, to revert back to your current situation.
Automatically share your own ranking data when grouped, with your guild members, and with players near you.
Know when a new version is available through an in-game version check.
Delete data points that are no longer useful with the /ranker prune command . This will delete any data recorded before September 5th, the week when Blizzard changed how they reward points to prevent rank manipulation through dishonorable kills.

What's coming
The rank predictions will stay accurate over time, as more data is known and exchanged.
Let me know through comments or private messages what else you'd like to see this addon do for you.

Donations