Enhanced Raid Frames
"...makes the stock raid frames as good as Grid2 and VuhDo, but without the learning curve!" -Tom Hanks, probably
Enhanced Raid Frames is a raid frame utility addon for World of Warcraft: Battle for Azeroth that brings configurable indicators for enhancing the built in raid frames, allowing them to function much closer to add-ons such as Grid/Grid2 or VuhDo.
There are 9 indicators for each raid member, forming a 3x3 grid overlaying each unit frame, that allow for showing the presence of and countdown times of buffs and debuffs in any configuration that suits your needs.
Indicators can be configured to show any buffs/debuffs of your choice and you can configure several buffs/debuffs in the same indicator. Some simple options lets you select to show only if the buff is missing, only cast by you, stack sizes and more.
---
Want to contribute?
---
Examples:
Example of indicators on a unit. Displayed here are the cooldown frames for Rejuvenation, Germination, Regrowth, Ironbark, Spring Blossoms, Wild Growth, and Lifebloom. Notice how each HoT has a specified location to maximize readability and reflex in combat.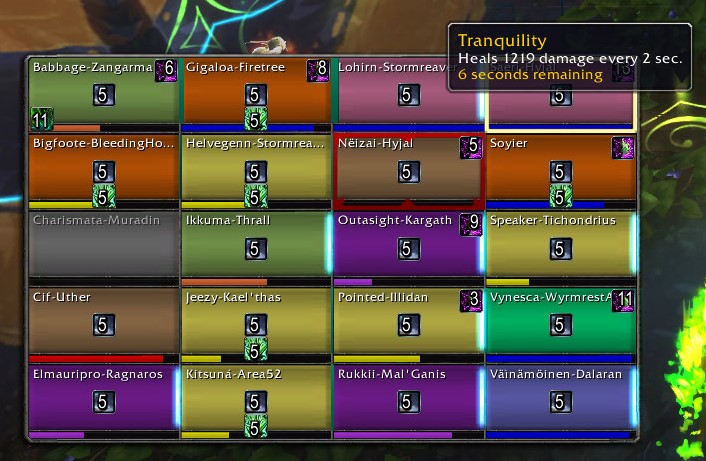 This is an example of what you can expect in a raid setting after setting up Enhanced Raid Frames. This example is for a restoration druid, but an experience such as this would be common for all healing (and non-healing) classes.
---
Configuration
The configuration can be reached through the standard addon options (ESC -> Interface -> Addons -> Enhanced Raid Frames)
Indicator options
The following can be used as buffs/debuffs:
Name or spellID of buff/debuff - Make sure this corresponds exactly to the name of the buff/debuff as it is called when it's on the unit (you can see the name if you cast the spell on yourself and it's not necessarily the same as the spell name)
"Magic/Poison/Disease/Curse" - To show any debuffs of that kind in that indicator
Spell ID - ID of the spell to track (useful when the spell name is ambiguous, i.e. Germination)
"PvP" - To show if a unit is PvP flagged
"ToT" - To show if a unit is the target of your target
Other options:
Mine only - Only look for buffs cast by yourself. Can be used for example to track only hots cast by yourself
Show only if missing - Only show the indicator if all the buff/debuff specified are missing. Will be shown with a "blob" instead of numbers
Show on me only - Only show the indicator on yourself. Can be used to track missing self buffs or procs on yourself
Show text counter - Will show a number counting remaining time
Show cooldown animation - Will show the clockwise cooldown animation on indicators
Use stack size coloring - Will color the counter based on the stack size (>=3 green, 2 yellow, 1 red)
Color by remaining time - Will use the selected coloring for time > 5s, yellow for 3-5s, red for < 3s remaining time
Show stack size - Will show the stack size if the buff/debuff can stack
Show icon - Will show the spell icon
---
Credits:
Original Author: Szandos
Enhanced Raid Frames is an extension of the amazing Blizzard Raid Frame: Indicators addon started by Szandos, for World of Warcraft prior to Battle for Azeroth. All credit for the bulk of this addon should go to him accordingly. I, Soyier, take no credit for the idea or implementation of this addon prior to my adoption of the code in the Summer of 2018.- - -