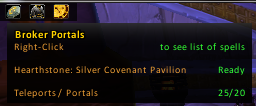 Broker_Portals
Description
Why would you have actionbars filled with portals, or open your spellbook everytime you cast a portal? Just right click on icon or minimap button and you can access all portals so comfortably.
It is designed as DataBroker plug-in, that lets you access all portal and teleport spells from one spot. Addon will be attached to minimap by default, but if you want to move/customize it, you will have to install additional addon like TitanPanel, ButtonBin, Fortress or my personal recommendation Bazooka and there are many more.
Features:
All mage portals, hearthstone and teleporting items available from simple dropdown menu
Minimap button, so you don't have to install any additional addon
Hearthstone location and cooldown in tooltip
Reagent count in tooltip
If hearthstone is on cooldown, Scroll of Recall will be used instead if possible
Can announce, that you're casting a portal
Localization:
If you'd like to add/update localizations, do so here. Then leave a comment on WowAce or on Curse as I'm checking those more often than localization app itself, and I'll repack it.
Bugs / Suggestions:
If you have encountered any problem, or if you think theres something missing. Feel free to post a ticket here.
FAQ:
I managed to hide my minimap icon, how do I turn it on again?

Just simply type "/portals".

I'm using FuBar, is it possible to use this addon with it?

Yes it is, but you have to install this small addon Broker2Fubar.

Does it support teleportation items like engineering teleports or Kirin Tor rings?