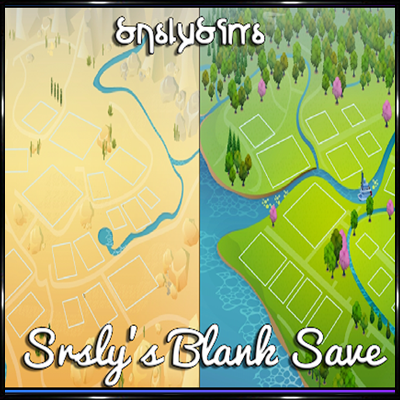 Srsly's Blank Save
I keep getting asked about the blank world that I use.
So I figured I would package it all up and share it with all of you!
I created this save mostly for Challenges and Build projects.
So you can just plop this save, and start building.
NOTE: I use "Zerbu's Venue Changes Mod" to set all lots to residential.
If you want to add back special lots, you will want to grab it too!
WORLDS INCLUDED:
Newcrest
Granite Falls
Willow Creek
Windenburg
Magnolia Promenade
Oasis Springs
San Myshuno
Forgotten Hollow
Brindleton Bay
Selvadorada
Del Sol Valley
Strangerville
Sulani
Glimmerbrook + Magic Realm
Britechester
Evergreen Harbor
Mt. Komorebi
Henford-on-Bagley
Tartosa
Moonwood Mill
Copperdale
San Sequoia
ABOUT THE SAVE
All EA residential & destination worlds were bulldozed!
All EA original lot names are the same!
My SimSelf, is found in played households. (Not placed on a lot)
Optional Files to pick and choose EA lots/households
HOW TO USE:
Download and Unzip the file
Navigate to your My Documents > Electronic Arts > The Sims 4 > Saves
Drag and drop the file located in the Zip into the Saves folder
Start up your game, and select the save file.
If you have any questions, come by Discord for assistance.
Looking for the Sims/Lots Tray Files?