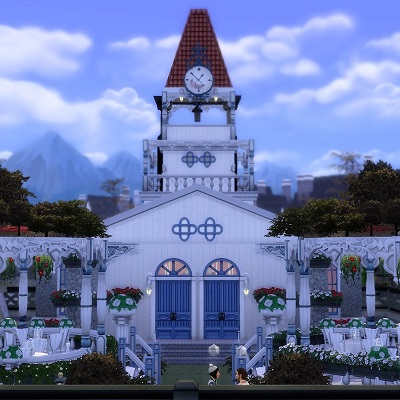 Romantic Wedding Chapel
Description
This Romantic Wedding Chapel invites all those of you who love to have a traditional Wedding with all you need: Romantical Music played live on the Big Piano, enough space for your guests to sit and watch the ceremony (and take pictures of it), TOILETS in the cellar (most wedding venues do not really seem to care about their Sims' needs ...), and afterward have a great party on the two wedding pavilions (with roof, so all may stay dry, safe, and sound).
Forgot the Wedding Cake? No problem - hurry and bake one or two new ones in the two kitchens in the back of the Chapel - there's even a cupcake machine if you prefer that.
With two microphones in front of the chapel, you can invite a comedian (or even two!). Music in the pavilions makes your first dance possible, and you can continue with the party all night long.
With its modest space use (30x20), and pricing (244.359 Simoleons), it fits nearly everywhere.
What you need:
The Romantic Wedding Chapel was built with the following additional packs:
Get To Work (Expansion Pack),
Spa Day (Game Pack),
Outdoor Retreat (Game Pack),
Cool Kitchen (Stuff Pack),
Perfect Patio (Stuff Pack), and
Luxury Party (Stuff Pack).
Have the best Wedding of your life - in Windenburg's Romantic Wedding Chapel!