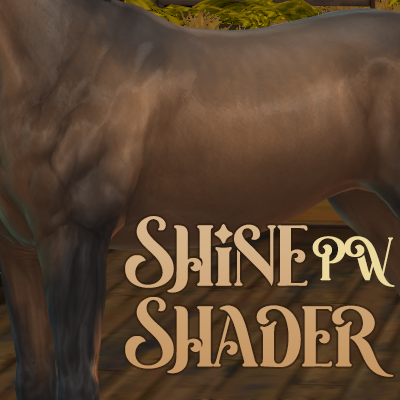 [PW] Horse Shine Shader
Some of the most talented CC artists have been painting unique horses with deep shadows and bright highlights that are impressive feats! However there has been a groan from the horse loving community to have REAL highlights.
I present to you, a shine shader for horses.
There are TWO versions of this mod. You can use one or both. The default version (shown above) is an equipable tail item that applies the shine effect. The second version is a sock item that does the same thing. (Represented with a hoof icon on the catalogue graphic.) If you use both packages, you will get six new catalogue selections, but it makes it the most versatile in being compatible with other horse mods, so you don't have to choose between this or something else you love.
It even captures the skybox light and changes colors and tints at the brightest points, most noticeable during sunrise/set. It is automatic. You do not need to paint custom shadow stencils onto your horses, but you can for a more dramatic effect of course!
This mod works best with a default horse texture replacer such as my Horse Shader Replacer mod but is not required.
Horse left is not using shader, horse on right is. (Credit bb for the amazing screenshot archery.)


These example horses are vanilla horses that are NOT painted or stenciled in any way.
It really brings the duller looking paints to life. Left is shader, right is no shader.
All using shader, default breeds. :) Left is using my 'Breeze Tail' though.
Tech Notes:
High Shine is the most consistent if you're having issues, but if you ever have this mod "wig out" and go to max, the reason is almost always because of certain types of horse CC. Modders mistakenly press 'clear' on the specular map when they replace models or textures. You should never do this for horse mods. The game will regenerate a new specular for you, but if you press 'clear' it can cause your horse to become really strange looking. Or if it doesn't, it causes THIS mod to become really strange looking because it needs the otherwise unused specular map to function. It can't function when another CC had a cleared specular, so if you have issues, try swapping hair, tail, or tack to see if one of them is the culprit and then pick and choose which you want the horse to wear.
::Other Credits::
bb - Mod Testing, Screen Capturing
Robin - Mod Testing, Screen Capturing