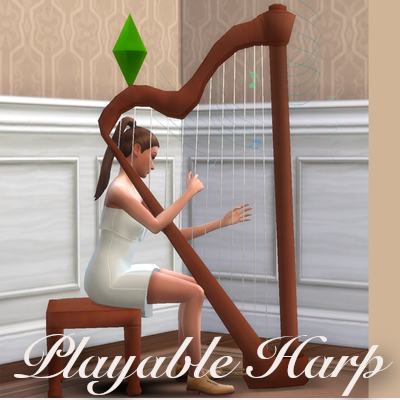 Playable Harp
Description
This new mod adds a harp skill, with custom like and dislike, and the ability to write and license songs! Play Classical, Folk, Medieval, and Romantic music, or write your own tunes. One low-poly object included, 5 swatches, and custom audio files for every stage of this 10-level skill.
UPDATE: Thank you so much to Mieli for the Chinese translations! You're fabulous and I appreciate the work you do!
______________________________
Skill Level Information
Level 1 - Practice Harp
Level 2 - Discuss Harp Music, and Research Harp at the Computer
Level 3 - Unlocks ability to Play Medieval Songs
Level 4 - Sims can Pluck for Inspiration
Level 5 - Play Traditional Song and Listen and Learn form other Sims
Level 6 - Promise to Dedicate Songs
Level 7 - Unlocks Romantic Songs
Level 8 - Write, Scrap, and Name Songs
Level 9 - Play Classical Songs and License Songs on the Mailbox
Level 10 - Mentor other Sims in Harp Skill
______________________________
Object Information
3 LODs, max 795 poly, 5 swatches. Feel free to recolor or use as you wish, just credit back so others can download the skill/animations!