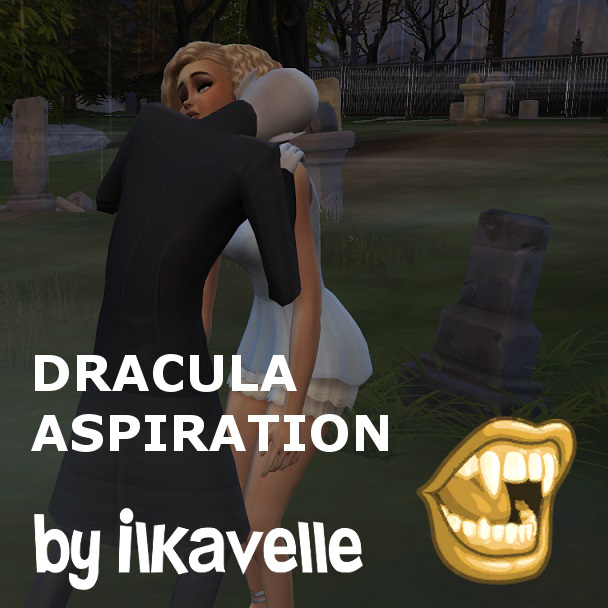 Dracula Untamed
I present new aspiration mod for your Vampires - you don't need to be anymore polite and good vampire - release your desire for plasma and complete this aspiration to remove all your weaknesses and become immune to cure for vampirism.
Reward:
As reward you get trait: The Original (yes, I had several inspirations, as I love stories about vampires in various forms, books, movies, tv series - I don't really care ;) ).
With this trait you will be immune to cure to vampirism (if thrown at you) and also you will get interaction to remove all your weaknesses.
*If you choose new power - you will be then force to choose also weaknesses. But afterwards you can use the interaction again and again get rid of weaknesses.
New interaction - Once you complete aspiration you get new interaction - Remove weaknesses.
Objectives:
1) Dark Path Awakened
*Drink Casually 5 Times
*Command to Be Mean 10 Times
*Purchase the 'Eternally Welcome' Power

2) Common Bloodsucker
*Drink Deeply 10 Times
*Achieve Level 5 Pipe Organ Skill
*Purchase the 'Bat Form' Power
*Perform Mean or Mischief Interactions

3) Ascendant
*Drain Life Spirit 15 Times
*Deprive Needs 10 Times
*Win a Vampire Duel 5 Times
*Have 5 Enemies
4) Untamed
*Drink Sim Plasma Without Permission 100 Times
*Adversely Affect Emotions Around 10 Times
*Turn A Loved One Into Vampire
*Witness the Death of a Sim
Requires The Sims 4 Base Game and Vampires Game Pack!
Conflicts:
This mod overrides following files:
E882D22F!00000011!0000000000024ACE.drink_VampireCure.InteractionTuning
E882D22F!00000011!0000000000024BA4.mixer_social_ThrowVampireCure_Targeted_Mean_AlwaysOn.InteractionTuning
But I checked a lot of mods that are overriding vampires files and my mod is not conflicting with any other existing mod, at least as long I could check it. If you find a mod conflicting with mine - let me know - I'll do update.
Languages:
English
Polish
French thanks to MaiaGame
Russian thanks to Annie Hugss
Italian (SimsPhoria)
Chinese + Chinese simplified (licer)
Portuguese (Melqui Viana)
Spanish (by Enzo)
Dutch (by GothiqeSimmer)