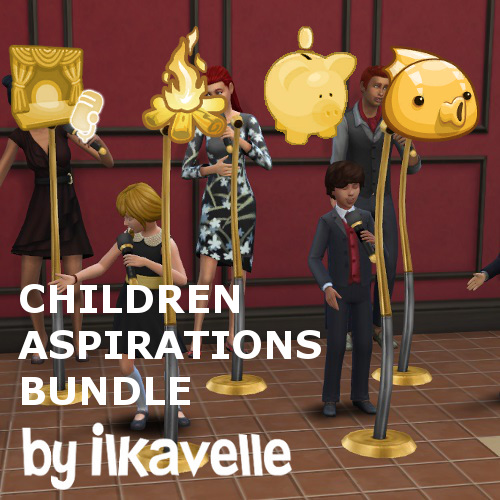 Childhood Ambitions Bundle
Requires only Base Game for 3 aspirations and for one aspiration - Kids Room Stuff pack.

For School Star aspiration to fully work you'll need also XML injector (the current version).
With this mod you get 4 new aspirations for children:
1. Little Entrepreneur - your youngest Sim wants to earn some first money. For this aspiration my One time jobs for Children is required.
2. School Star - choose afterschool activity, learn new hobby, it can be playing instrument, singing, dancing etc. And finally win School Talent Contest.
For this aspiration I recommend to use my Afterschool Activities mod, however it should work with any available activity - also custom ones done by other modders.
To complete tasks of winning contest - you can user either rabbit hole interaction, or my event Talent Contest.
3. Little Explorer - this is for brave Sims who are curious about the world around them. Travel to various locations, collect treasures, sleep in a tent. Get the Badge of Great Explorer.
4. Voidcritters Master - Catch Them All :D This aspiration requires Kids Room Stuff pack to collect Voidcritters.
Languages:
English
Polish
French (Kimiko Soma)
Chinese (Mumu)
Dutch - for School Star aspiration (by Kimberley)
Italian (ZaffiroGarnet)
Portuguese (by qlaqercoixsa)
Dutch (by Kimberley)
Spanish by Mine (also known as Nerea)
Conflicts:
This mod doesn't override existing files so should not conflict with other Sims 4 mods.