Description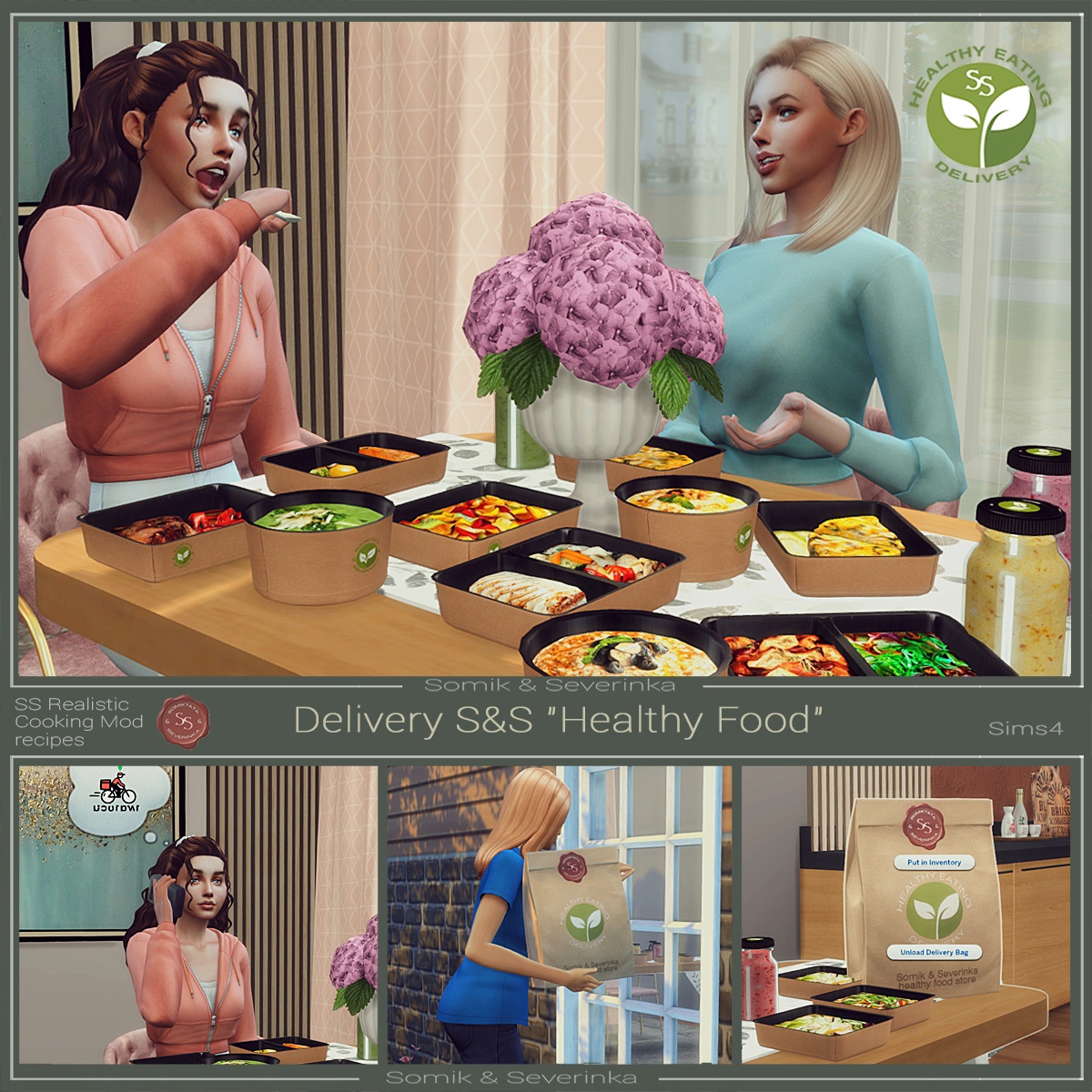 Update:
- Compatible with 2 part delivery
What is included mod:
Home delivery
19 different mega-healthy dishes for breakfast, lunch and dinner
5 types of smoothies from berries and fruits for a snack
All food has a negative calorie content and develops a healthy lifestyle
A specially designed system of 7 ready-made meal kits for every day of the week
You can choose your own diets for vegetarians or sims with lactose intolerance, thanks to convenient sorting in the order menu and an expanded description of each dish

Instructions for use:
🥦Order delivery and choose either individual dishes or ready-made sets with food (cheaper in sets). When you hover the mouse over the box, you will be able to read what is included in each set
🥦Unpack the delivery package (the food will move immediately to the refrigerator, and the boxes to the Sim's luggage). While the food is in a closed box, it does not spoil, so you can order several sets at once in advance.
🥦Open the box and get food for the day in your Sim's luggage. The shelf life of the dishes is specially selected so that it is enough for a day without a refrigerator
🥦Eat and lose weight!
Diet for every day
If the program is followed, you can get rid of 3-5 extra kilograms in a week. If you want a more tangible and quick effect- connect sports, for example, jogging in the morning
If the sim does not need to lose weight, but only to maintain weight, you can add to the diet or replace part of the "normal" food or drinks with calories
Monday👇
Breakfast Omelet with Spinach and fresh Cucumbers
Lunch Steamed Salmon and fresh Vegetables
Dinner Salad of Peppers and string Beans
Snack Smoothie with Banana
Tuesday👇
Breakfast Oatmeal Porridge with Berries and Nuts
Lunch Grilled Steak and baked Red Pepper
Dinner Greek Salad
Snack Smoothie with Blueberry
Wednesday👇
Breakfast Fruit Salad with Strawberries
Lunch Bean and Vegetable Soup
Dinner Vegetable Salad with Chicken and Oranges
Snack Smoothie with Kiwi
Thursday👇
Breakfast Omelet with Vegetables and Grilled Zucchini
Lunch Grilled Tilapia and steamed Vegetables
Dinner Greek Salad
Snack Smoothie with Raspberry
Friday👇
Breakfast Millet Porridge with Nuts
Lunch Meat Stew in tomato sauce and steamed Broccoli
Dinner Pumpkin Soup-puree with Seeds
Snack Smoothie with Strawberry
Saturday👇
Breakfast Omelet with Spinach and fresh Cucumbers
Lunch Broccoli Soup-puree
Dinner Fish Salad with Carrots and Peas
Snack Smoothie with Kiwi
Sunday👇
Breakfast Barley Porridge with Blueberries
Lunch Chicken stewed with Beans and Green Salad
Dinner Mushroom Soup-puree
Snack Smoothie with Raspberry
Compatibility
The mod is compatible with any other mods and deliveries by other authors
[INCLUDED TRANSLATION]:
- Russian and English
[TRANSLATION SEPARATELY]:
- Spanish translation from Laura Martinez Barca
- French translation from Braville16
- Chinese traditional and simplified from Mieli
- Polish translation from Daisy1728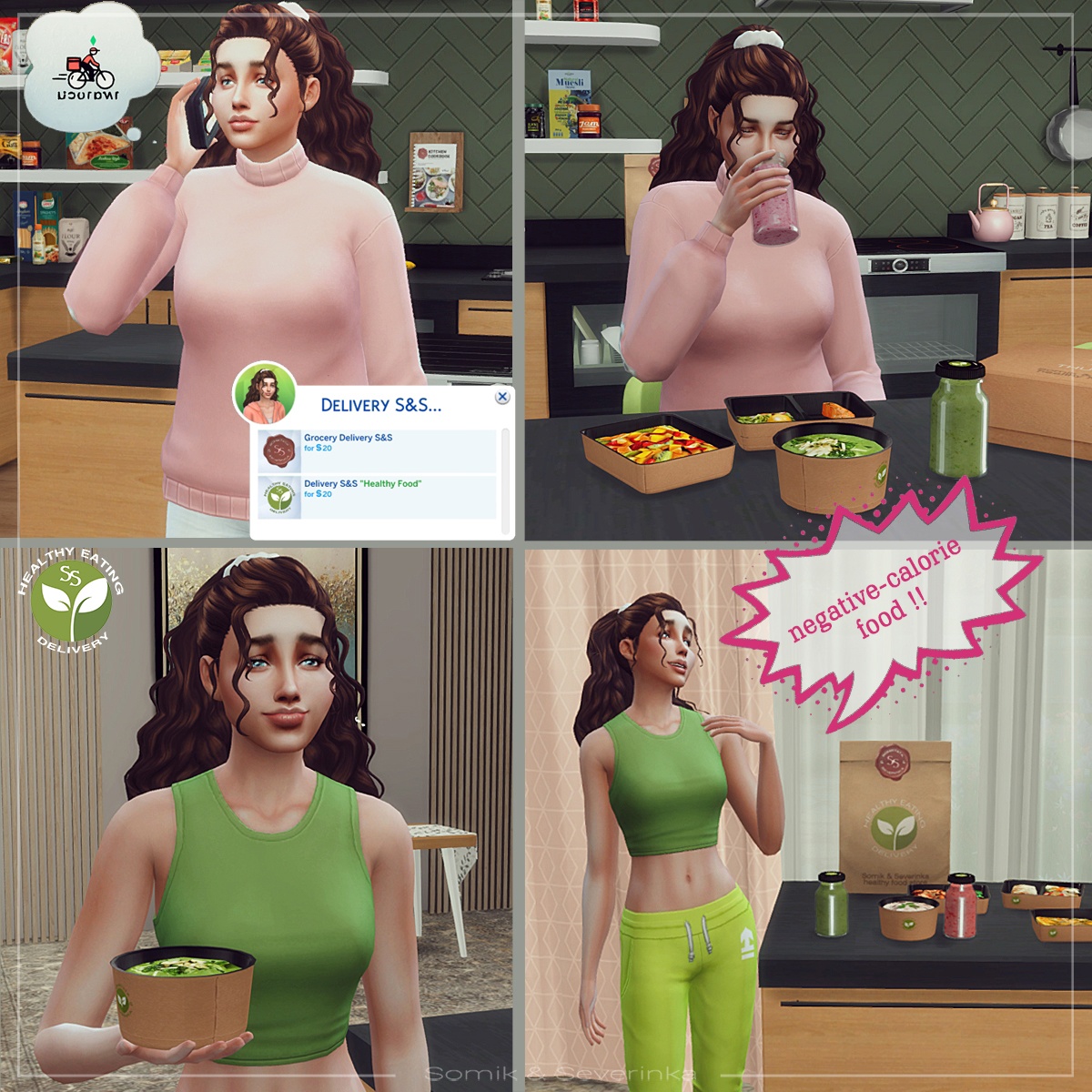 Enjoy💚!