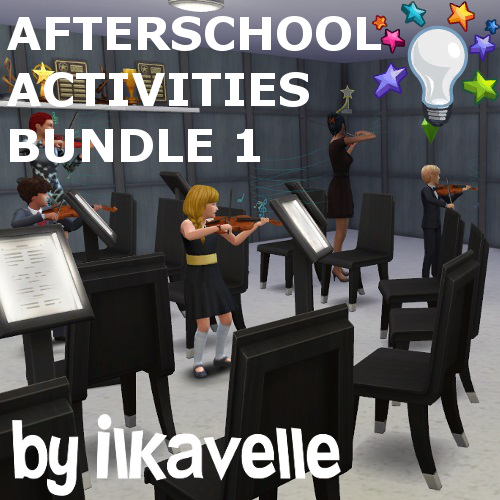 Afterschool Activities Bundle1
For the mod to work fully you need also
XML injector
(the current version). Otherwise some options will be unavailable.
This mod introduces 6 new activities that focuse on creative/performance skills:
School Choir
School Orchestra - choose main instrument that you will learn to play from now on during classes
Literature & Poetry Circle - write poems and stories
Dance Classes
Art Classes
Acting Classes (for those who don't have Get Famous)
Each Activity:
has 5 levels

increases fun and social motives, corresponding skills, responsibility and control of emotions (last two if you have Parenthood)

includes some custom chance cards that has various outcomes influencing performance and adding new buffs
Additionally:
School Orchestra - allows to choose main instrument that you will learn to play from now on. You choose instrument during preparatory classes and you stick to your choice.
Literature & Poetry Circle - you will need to write your poems or stories using computer (new interactions). Once you complete the poem, you'll find it in the inventory. You can read it, or send to rest of the group, so they can review it. If you send it, new away action unlocks during activity - to discuss your writing. The group can like or not your work.
School Choir - I added new interaction to use with mirror - Warm up your voice - it will work to complete also singing objective :) This is mostly for people that don't have City Living, so you can still fully enjoy the activity :)
Dance classes - Children can also workout using monkey bars :)
Languages:
English
Polish
French (Kimiko Soma)
Chinese & Simplified Chinese (MuMu)
Italian (by SimsPhoria)
Spanish (Carolina)
Dutch (by Kimberley)
Portuguese (by qlaqercoixsa)
Swedish (by Liba)
German (by helene912 alias Steffi)
Conflicts:
This mod doesn't override existing files so should not conflict with other Sims 4 mods.