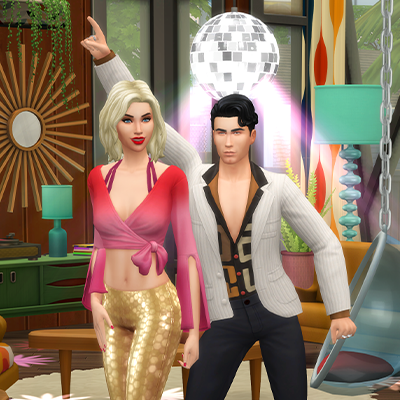 Retro Vibes CC Pack
Description
I can finally share with you my cc pack inspired by Retro Vibes (60's, 70's & 80's). Since last year I was hoping to work on something like this and I thought many Simmers would like this theme as much as I do, so lets check out what this cc pack includes.
There is everything you need to redo your Sims living room and give it a retro vibe using an old fashioned TV model, cool vintage mirrors, beautiful decorative vases and of course a set of sofas in diferente colors and retro textures.
I worked with a classic vintage color pallete including some extra colors and textures to have a good variety of options in furniture and woods.
Create your own space. If you are looking to create a vintage and cute study, where you can work from home using your old computer while listening to good retro jams in your new vinyl's player... you can do that!
Looking to create a pop of color in an old corner of the house? Say no more, what about this classic and retro telephone table with seating, a golden lamp and some very nice curtains. A perfect spot to read.
Now you can have a casual night in your patio with these amazing hanging seats. Make your house the most eye-catching on the block with their retro transparent aesthetic.
And finally, I tried to find a way to recreate a Disco Ball, because... what's retro if not a disco ball to dance on Saturday Nights!
I hope you like this cc pack!
▶ ABOUT THE CC PACK
Functional object

: Disco Ball (Requieres Get Together EP)

Decorative

: 2 rugs, 3 different length curtains, 3 plants, 2 wall mirrors, 2 decorative vases, 2 vinyl's clutter,

Electronics

:

Plum-128K PC

, Retro TV, Vinyl Player

Comfort

: Bubble Hanging Acrylic Chair (Requieres Get to Wok EP), Retro Living Chair, Dining Chair, Living Chair, Love Seat, Sofa

Lighting

: Floor Lamp, Table Lamp

Surface

: Coffee table, Desk, Hallway table,

Vintage telephone table
▶ MY SOCIAL MEDIA
Follow me on Twitter, Tumblr, Tiktok, YouTube, Pinterest or Instagram.
Please consider becoming a patron if you enjoy my cc, your support will allow me to continue making amazing stuff for your Sims. 😊
Support me on Patreon here.
Visit my website here.
Read my Terms of Use here.
▶ PRO TIP
You can find all my CC or this CC Pack typing "SixamCC" or "Retro Vibes" in the search bar in the catalog.