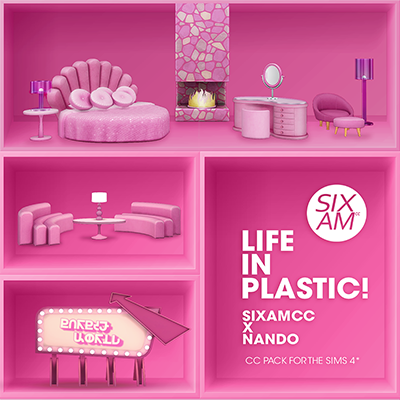 Life in Plastic!
Introducing the "Life In Plastic" CC Pack, my own version of Barbieland inspired by the Barbie movie. Prepare to transport your Sims to a realm of glamour, joyfulness, and pink-tastic furniture! 🎀👠
This time, NANDO and I focused on creating a series of furniture inspired by the movie, where every piece is designed to capture the essence of Barbie's iconic world. Almost piece in this dreamy collection is crafted from plastic! Life in plastic is fantastic, indeed! 💖
From an elegant heart shaped bed with sparkling sheets to luxurious fireplace fit for a princess home, each piece exudes a fairytale charm that'll make your Sims feel like they're living in their very own Barbieland!
I hope you all love this CC Pack as much as I loved bringing it to life. So let your Sims indulge in their own magical plastic-inspired adventures!
⚠️ COLOR PALETTE. As much as I like Pink, I added other more "neutral" tones that can be use for other decoration styles. I hope you find this helpful.
▶ ABOUT THE CC PACK
35 Items
Activities: Curved bar
Build: Grass Tile Recolors, Pool Shape, Pink Rocks Floor, Pink Rocks Wallpaper
Comfort: Arm Chair, Heart Shape Bed, Bed Cushions, Bench, Dinner Chair, Fire Place (3 sizes), Lounge Chair, Love Seat, Ottoman, Sofa, Stool, Vanity Chair
Decorative: Umbrella, Vanity Mirror, Base Game Curtains Recolor, 2 Base Game Frame Recolors, Path Block for Outdoors
Lighting: Floor Lamp, 2 Table Lamp, Street Lamp
Outdoor: Bin
Surface: Coffee Table, Dinner Table, Night Table, Vanity
▶ PRO TIP
You can find all my CC or this CC Pack typing "SixamCC" or "Life in Plastic" in the search bar in the catalog.
▶ MY SOCIAL MEDIA
Follow me on Twitter, Tumblr, Tiktok, YouTube, Pinterest or Instagram.
You can read my Terms of Use here.