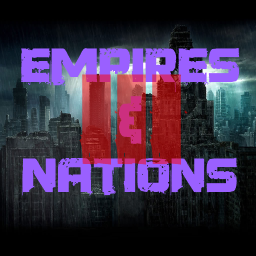 Empires & Nations III
Description
Humanity finally did it. They began the war to end all wars... in the year of 2064, the global powers entered into a war which quickly escalated, forcing the East Asian Federation to use their nuclear weapons. There were 9 billion people. They believe that figure to be as low as 50 million, even now in 2100. Since then, local governments have banded together and managed to form their own nations, gradually rebuilding civilisation. Your nation recognises this region as one of the few areas containing the resources we need, and has sent you to secure it. However, our satellites show that you are not alone.
but antep, wot it ?
Add AI to play alone or co-operatively. Or even as a PvE element in PvP game
Sequel to Empires & Nations (Empires & Nations II was something else entirely...)
Large-scale warfare
Diplomacy
New resources
Defence system involving neutral structures that provide cover, such as sandbags
Random start locations for everyone, and following the tradition of SC2 melee, everyone has a natural expo too (this brings familiarity to new players...)
Control of resources is incredibly vital, since the map is huge (well, as big as it can get) you can easily be cut off from your outposts, and it just gets harder to maintain a big empire). Not just that, but your resources WILL run out so do not let yourself get besieged.
Player+AI limit: 14
Right now this is just an alpha, so don't expect much, I only started it the other day... but it is published on EU, for testing.