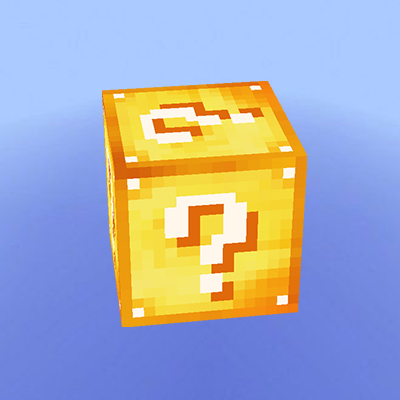 Lucky OneBlock - Lucky Blocks - Multiplayer - [ 1.20.2!! ]

---
It is an adventure map just like the OneBlock map from IJAMinecraft.
On this map you will appear as a single block floating above the void.
You will forever break a Lucky Block! Good luck!
---
Welcome to Lucky OneBlock!
This map for Minecraft will take you on an exciting and
challenging adventure centered around a single block of Lucky Block.
Get ready to live an experience full of surprises, dangers
and opportunities as you explore a unique and limited world.
Your main goal is to make the most of that special block.
Every time you break a Lucky Block, you'll trigger a wide range of random events,
from generous rewards to challenging traps and formidable enemies. Luck will be on your side!!


Don't forget that strategy and adaptability will be key to surviving on this map.
As you progress, you will be able to combine items obtained from
Lucky Blocks to create powerful weapons, useful tools, and protective gear.
Master the art of luck and unlock your true potential!!
---
---
https://www.curseforge.com/minecraft/mc-mods/lucky-block
---

This is my first map working with datapacks!
---
I will be constantly updating and improving the experience creating goals and achievements!
Please I hope you can give me support a good feedback

---
---

One block with different blocks, with addons!!!!
- Lucky_Summer_OneBlock

---
---
For a 25% discount click here

---
Review in Spanish
(Español)
5:22