Stickland
Resource Packs
2,149 Downloads
Last Updated: Mar 13, 2018
Game Version: 1.12.2
Stickland is a cartoon-ish pack with textures made of every imaginable combination of its five shades of gray! With so may shades available, this pack goes way beyond the monochrome limitations of black and white to offer a wildly diverse array of block texture designs.

Stickland is still in flux. It has all GUI textures and 89% of block textures, but does not yet include items and mobs. More to come in future releases. Everything is subject to change at this point, so let me know what works and what doesn't so your favorite part doesn't get removed!

This pack includes it's own font to match the hand-drawn style. The font is now enlarged to make it more legible, but I'm still looking for any constructive criticism I can get, so please don't hold back!

Stickland includes number of custom models to eliminate the automatic green tinting that minecraft does to some plants in certain biomes. Thanks to Craftykids for explaining how to fix this!

So get to it: download it, try it out, make it a favorite. You won't be sorry! (or will you? you decide.)

Feedback is appreciated! Please let me know if you see any problems or textures that could be improved. Thank you.

If you want to encourage my development efforts, you can provide one-time financial support here on Curse or ongoing monthly support on Patreon. Your donations make a difference!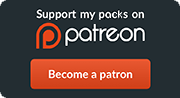 Enjoy!