It's Forby! I mean, Four by Four bits.

It's Forby is a 4-bit texture pack. It has a 4-bit font for European languages and a 4-bit font for the Enchantment Table. Includes all blocks! Includes all items! Includes all mobs! Includes all paintings! Includes all GUI screens! Now includes every texture (file version 0.1.3). The only thing left to do is fix the colors and shapes of some particle effects.

Torches are fixed!
Okay, so torches are even more broken than before. This will be fixed shortly.
Hooray! Torches really are fixed now!
Oops. Torches are broken again. Will be fixed soon.
Torches are fixed! Again. (file version 0.0.9)

It's Forby! is now available for Minecraft 1.13 snapshots! All block and item textures have been renamed to the new names and all new blocks and items have been added for the 18w14b snapshot. Most of the new fish mobs are still waiting to be added. Most horses have not been updated to work with the 1.13 snapshots yet, so they use the default Minecraft textures. The latest version works with snapshots from 18w11a to 18w15a.

Feedback is appreciated! Please let me know if you see any problems or textures that could be improved. Thank you.

If you want to encourage my development efforts, you can provide one-time financial support here on Curse or ongoing monthly support on Patreon. Your donations make a difference!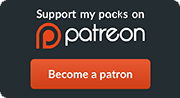 Enjoy!