Adds a Block cutter into the game that will cut blocks in half and drop a slab.
Quite useful for your skyblock worlds/modpacks!
Why? Because it is easier to put down full blocks and be able to change them to slabs afterwards to prevent mob spawning.
How to craft the block cutter: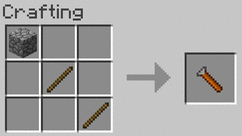 You can replace the cobblestone with iron or a diamond for more durability!
A larger version of the tool is also available, to cut blocks in a 3x3 area.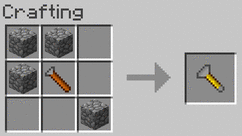 If you want to receive the slabs directly in your inventory instead of dropping on the ground, set autoPickupItems = true in the config file.
All vanilla Blocks/slabs supported are supported of course but also blocks from those mods:
For Minecraft 1.7.10:
Botania
Immersive Engineering
Natura
Biomes O' Plenty
Forestry
Twilight Forest
Thaumic Tinkerer
Tinkers' Construct
For Minecraft 1.8.9:
Botania (unofficial)
Biomes O' Plenty
All suggestions for improvement are welcome!