CONTENT 1.18 v 1.7.10?
For more info relating to the recode and plans check the discord or my website https://narutomod.sekwah.com/docs/recode
The mod is being re-coded from scratch with some temporary porting (1.18+). So a lot will be missing atm e.g. animations, armour and some jutsus.
Now the main systems have been re-created for 1.18 it will take some time to catch up with features to the older version. However, while we are working on it the older versions will still be available for download.
Though to reduce the gap I will be posting more updates so that there is less pressure on one giant update but rather smaller updates. Check the website for more info and I will likely make a summary video on my youtube channel when I get some time.
The Naruto mod adds various features to Minecraft such as items, mobs, weapons, new player animations and chakra. The mod is still in beta so there are a lot of features still being added.
Some Features
New Naruto items
New Naruto mobs
Jutsus and other ability's from Naruto
New Player animations (1.7.10, planned to remake for 1.18+)
Chakra system&nbsp
Common Problems
Minecraft Crashes When Started
This problem can be caused by a few things etc trying to add mods that are not compatible or download was interrupted.
Need a Host? We recommend Nodecraft!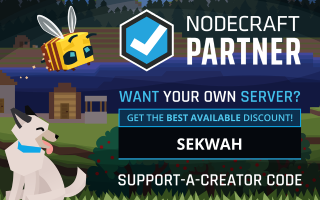 Using the creator code "sekwah" will get you 30% off your order as well as help support the development of this project.
For 1.3.0+ of the mod

Contact Us
If you have any issues or want to test newer versions, feel free to join the discord and send me a message. Sending me crash logs is preferable there in the naruto-mod chat.