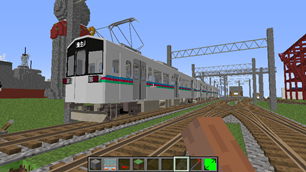 ・Adds real scale train, rail, vehicle, signboard, etc.
・You can create custom model and add it.
※Modは解凍せずにmodsフォルダに入れてください。当ModはNGTLibが前提Modですので、一緒にmodsフォルダに入れてください。
 Put Mod in mods folder without decompression. This mod need NGTLib, please put in the mods folder together.

※画面に警告メッセージが出る場合は、ここのリンクにあるテキストに従い、認証コードを入力してください。
 If a warning message on the screen may appear, in accordance with the text in the link here, please enter the authentication code.
<RTMモデルパック作成キット (RTM ModelPack Creation Kit)>
https://www.dropbox.com/sh/2xmmxa66ptuyowx/AADneIlrlrNyJPSTRQsXh0ija?dl=0