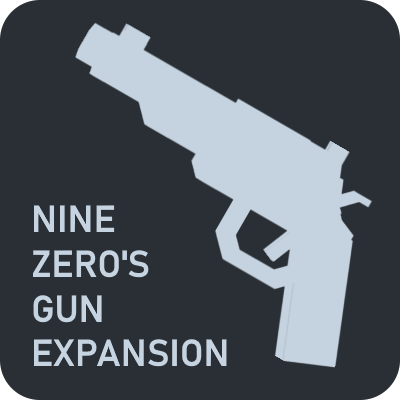 NineZero's Gun Expansion
NineZero's Gun Expansion is an addon mod for MrCrayfish's Gun Mod that adds additional weapons and attachments in an aesthetically simple style. These weapons are designed and modeled to fit in with the weapons from the Gun Mod, while maintaining key details that help define each weapon.
Want the CGM guns in this mod's style? Check out CGM Audio/Visual Enhancements!
Dependencies: Framework is required for 1.18.2+ releases. Obfuscate is only required for 1.16.5 releases.
Feature List:
Over ten new weapons to use. By default, these weapons are balanced to fit in with the default CGM weapons.
One ammo item: the Medium Bullet, used by some of the rifles in this addon.
An assortment of attachments, including barrels, stocks, sights, and a grip.
Crafting recipes for all items, allowing them to be used in survival mode.
Check out the wiki for detailed information on all the guns and attachments featured in this mod!
Preview Renders
Versions:
NineZero's Gun Expansion is available for 1.19.3, 1.19.2, and 1.18.2, and 1.16.5.
Main development version
1.19.2
This version is the one I use for developing new features and implementing cross-version bug fixes. These changes are then ported to the actively supported versions.
Occasionally, this version may see pre-release alphas for testing new features and bug fixes before they are pushed into a full release.
Actively supported versions
1.18.2, 1.19.2, 1.19.3, 1.19.4
These versions will receive all content updates and bug fixes, and will do so in short succession. They receive updates following the main development version, which is included here for simplicity.
Delayed release versions
1.16.5
These versions will receive the same content updates and bug fixes as actively supported versions, but likely after the actively supported versions have received releases.
Note about 1.16.5:
CGM's latest version for Minecraft 1.16.5 is v1.2.6 (compared to 1.3.x on 1.18+) and uses Obfuscate instead of Framework as its core library, so there are inherent code and model file differences compared to CGM for 1.18.2+. While NZGE for 1.16.5 is still supported, I consider it a delayed release version as it takes time to backport content to this outdated version.
Partially supported versions
None Currently
These versions will primarily receive bug fixes as needed, but will likely not receive any new content updates.
Unsupported versions
None Currently
These versions are no longer supported beyond troubleshooting existing issues, and will no longer receive any updates.
Credits & Contributions:
Simplified Chinese (zh_cn) localization: chemlzh (via GitHub)
Russian (ru_ru) localization: PortalRU (via GitHub)
Japanese (ja_jp) localization: Nyattou (via GitHub)
If you would like to contribute translations, please open an issue or pull request on the mod's GitHub repository and provide a language json file with the translations. Your help is appreciated!
Q&A:
Q: Can I use this in my modpack?
A: Yes you may. As a courtesy, please include the mod's name and/or a link to it on your modpack's page or mod list. On CurseForge, a modpack's 'Relations/Dependencies' page effectively serves as a mod list.
Q: Why do some versions start with 1.1.1 or 1.3.2 instead of 1.0.0/1.2.0/2.0.0?
A: An NZGE release's version numbers reflect the state of the mod across all Minecraft versions, effectively denoting the version from which it was ported. For instance, the 1.18.2 branch starts at 1.1.1 since it was derived from the 1.19.2 v1.1.1 release. If a major overhaul were to occur with a new version, then that version would be labeled as '2.0.0'.
Q: Can you add x/y/z?
A: I cannot guarantee that I will add the guns/items you want. I do look at comments and any suggestions included in them, but what I add ultimately depends on what I feel would fit in with the rest of NZGE's content.
I have a roadmap of various items/features that are planned or in consideration on the mod's GitHub page, which may include something you're suggesting. Please note that this roadmap is not set in stone and items may be pushed forward or backward or have their status changed at any time.
Q: 1.19.4?
A: Out now. I plan on supporting 1.19.4 on release and for a couple of updates after.
Q: Then 1.20.1/2?
A: I cannot update NZGE to 1.20.x until CGM has been updated to 1.20.x. Once CGM for 1.20 is released, I can begin porting NZGE to 1.20.
Q: How about 1.12.2?
A: CGM 1.12.2 is much different than CGM for 1.16.5+ both in function and in the internal code, and has not received an update since early 2020. While I understand that 1.12.2 remains a popular version of modded Minecraft, I have no plans to backport NZGE to 1.12.2.