---
About
Ever heard of Bean Boozled? Ever wanted something new rather than Chance Cubes / Lucky Blocks? This is the mod for you!
Lucky Beans is a mod that resembles Bean Boozled. By eating different colors of beans ingame, rather than tasting different flavours, you'll get different rewards randomly instead, can be either good or bad!
To obtain Beans, you'll need to find Mysterious Bean Trees that spawn randomly in the world, harvest the Bean and you'll get Mysterious Bean! Right click with a Mysterious Bean on your hand will give you a random color of Bean, eat them... and good luck!
This mod was made based on the ideas of a Twitch streamer called reninsane, make sure to check him out as well!
This mod is only available for 1.12.x for now, if I get enough requests from people, I will backport it to 1.10.2 and 1.11.2.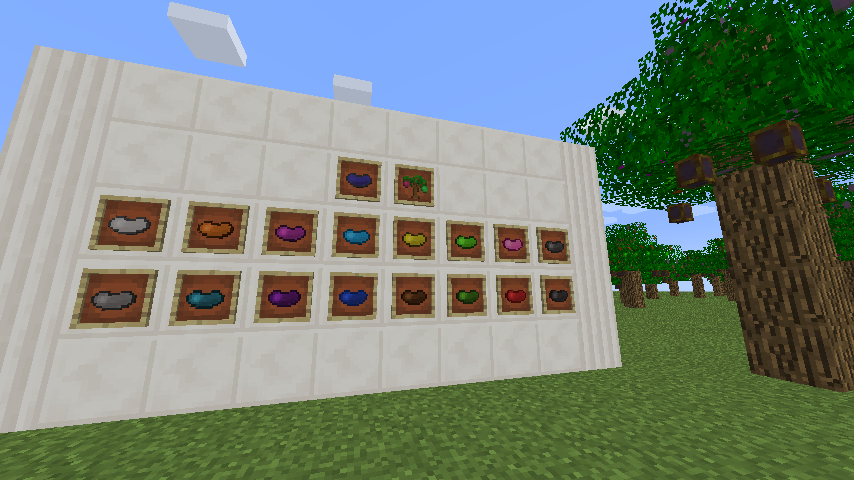 ---
Features
16 different colors of beans
20 different rewards, unlimited possibilities
JEI integration, you can see descriptions for each different items with JEI installed, in-game manual pretty much
/givebean command made for streamers, easier to obtain beans for subs / tips / bits
---
Todo Features
Custom rewards in JSON
A better rewards system
More rewards
Twitch / Streamlabs integration
---
Bugs / Feature Requests
Please submit any bug reports / feature requests / reward ideas through the GitHub issue tracker.
Note: Optifine / FoamFix will likely affect your bug report if you have them installed. Please test and reproduce the same bug without Optifine / FoamFix installed.
Also, don't suggest ridiculous rewards (e.g. spawning bosses like ender dragons or withers), any of that kind of reward suggestions will be denied.
---
Source Code & License
---
Using this mod in modpacks
Yes! Feel free to use this mod in any EULA-compliant modpacks. In short, you cannot monetize the modpack through websites like adf.ly, adfoc.us, etc.
Feel free to DM me on Twitter, Discord, Twitch or Reddit (Links are down below) about your modpack details!
---
Contact Me
---
Donations / Tips
If you enjoy this mod and would like to support my mod development, consider donating / tipping! Every donations / tips are appreciated!
>>Click here to donate / tip<<
---
Special Thanks
Turkey2349 and Shadows_of_Fire for helping me to make this mod
ColossalPercy for making all the item textures + logos
KnightMiner for helping me with the complicated blockstates stuff