This requires Hand made Guns Mod with official pack.
このmodはハンドメイドガンズmodを必要とします。必ず公式パックを入れておいてください。
This is mod for MC1.7.10, but MG36 is making GvCMod for 1.10.2 or more latest version.
このmodはMC1.7.10用ですが、1.10.2より新しいバージョンのものは原作者であるMG36氏が製作しています。
and, this mod need HMGEX & "Official ContentsPacks"(<-uploaded as HMG's additional File)
Mobs
Soldiers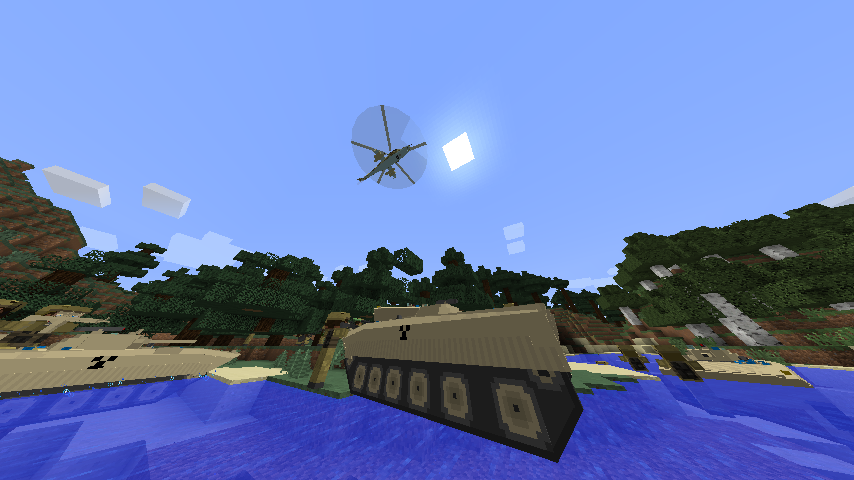 They are Allies of Steve.
They are resisting those trying to flatten the world.
Guerrillas
They are enemy of Steve.
They are trying to destroy all structures and flatten the world.
日本語解説、ヒア
このバージョンのゲリラmodを遊ぶにあたって心得をいくつか
一、平地は避けよ。周囲すべてを警戒するのは不可能だ。
一、遮蔽物を意識せよ。特に戦車と戦う際には必須である。
一、PMCを有効に使うべし。数は力である。
一、塹壕を掘り、塹壕に住め、そして塹壕を愛せ。家は遮蔽物になりはするが手間に見合わない。
といって、私がやる際も上全部守れてはいないんですがね。
さて、初期がつらすぎることで有名なこのmodですがいくつか救済要素があります。
例えばPMCキャンプ。何かしらの銃と兵士のスポナー、更にベッドがありますから辿り着ければひとまず安全です。
さて、ではPMCキャンプが見当たらない場合どうするのか。まずは夜を待ちます。ゲリラが湧いたら単独で立っているやつを探しましょう。夜間はゲリラの視界がかなり短く制限されますから慎重に行動すればそう簡単には見つかりません。
接近する時は後ろから。彼らは前しか認識できません。接近できたら最後は走りながら殴りましょう。見つかる前に殴ることができれば銃を奪えます。殴られたゲリラは全力で殴りかかってきますが、そいつのことは無視してクラフターらしく穴を掘って隠れましょう。これで初期装備の調達ができます。
中盤はどうすれば良いのか。何かしら銃を調達できれば、あとは拠点を築いて敵を狩りながら資材を貯めていきましょう。敵地を攻撃するも良し、山狩りをするも良し。
要塞ができたと思ったならSupply Beaconを使ってみましょう。ゲリラが常に攻めてくるため、正規戦の様相を呈します。防衛能力を試すにはもってこいです。