Note on 1.12 Version
This mod hasn't seen an update for several Minecraft versions. It is now being rebuilt for Minecraft 1.12. Initially, only a small amount of the content is present in the mod. This will be expanded over time, but not everything from the 1.7.10 version may get carried over.


This is a collection of garden-related mods originally based on Modular Flower Pots. I hit some technical barriers that required a compatibility-breaking rewrite, and took the opportunity to break the mod into several pieces. This gives me more freedom to expand each of the pieces without the worry that I'm straying too far from the "modular pot" focus. The mods are meant to be used together, but you are free to pick and choose the content you want to use.

This mod collection can co-exist with Modular Flower Pots, but duplicates most of its content. I would not recommend running them together.
License and Usage
This mod and its source code are released under the MIT License. You are free to use it in modpacks. A courtesy link is appreciated. It's okay to distribute your modpacks through ad.fly, but please do not distribute these mods directly through such links. That will make me a sad panda.

If you make something cool with this mod, you're encouraged to share a screenshot in this thread.
Resources
For more information, screenshots, spotlights, optional texture packs, etc., visit this project's thread on the Minecraft Forums:
http://www.minecraftforum.net/forums/mapping-and-modding/minecraft-mods/2163513
For source code, issue reporting, translation patches, etc., visit this project's GitHub project:
https://github.com/jaquadro/GardenCollection
The CurseForge project hosts the combined GardenStuff jar. The components of GardenStuff are available as individual jars via the Minecraft Forums thread or GitHub releases page.


Garden Core is the base mod that all the others depend on. You must install this mod if you install any of the others. In addition to being a dependency, this mod does provide a small amount of usable content. Garden Core provides the foundation for combining multiple plants into a single block, and includes some miscellaneous bits that don't fit elsewhere.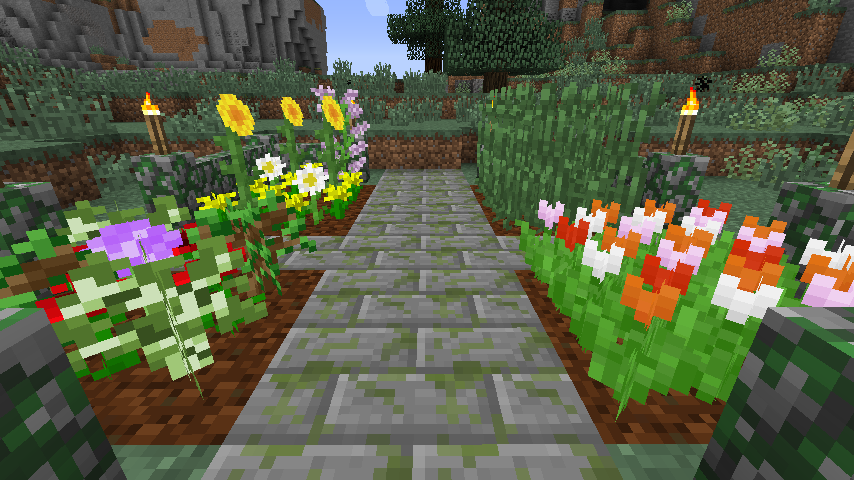 Garden Containers encompasses the pottery component of Modular Flower Pots. It contains the same large pots and crafting mechanics. It also adds new containers like fancy pots, medium pots, and window boxes. New containers may be added later.
gardencontainers.patterns.cfg: A config file to control the available patterns and how to obtain them. Open the config file for more in-depth information. It is possible to add your own patterns.


Garden Trees encompasses the ornamental tree component of Modular Flower Pots. It allows saplings to be grown into miniature trees, and adds the wood posts and wood post fences. If you have another mod installed that's compatible, new posts and fences may be available based on the compatible mod's trees.