About
Have you ever heard of End Cake, one of the important elements mainly in Skyblock packs? Yes, there is already a mod for it, but it's only available for 1.7.10 - 1.10.2. End Cake has been absent since 1.11 and beyond. So, here's this mod!
It's not just End Cake, but more than you expected!
Starting from version 1.3.2 of Dimensional Edibles for 1.12, GunpowderLib is a required dependency for this mod.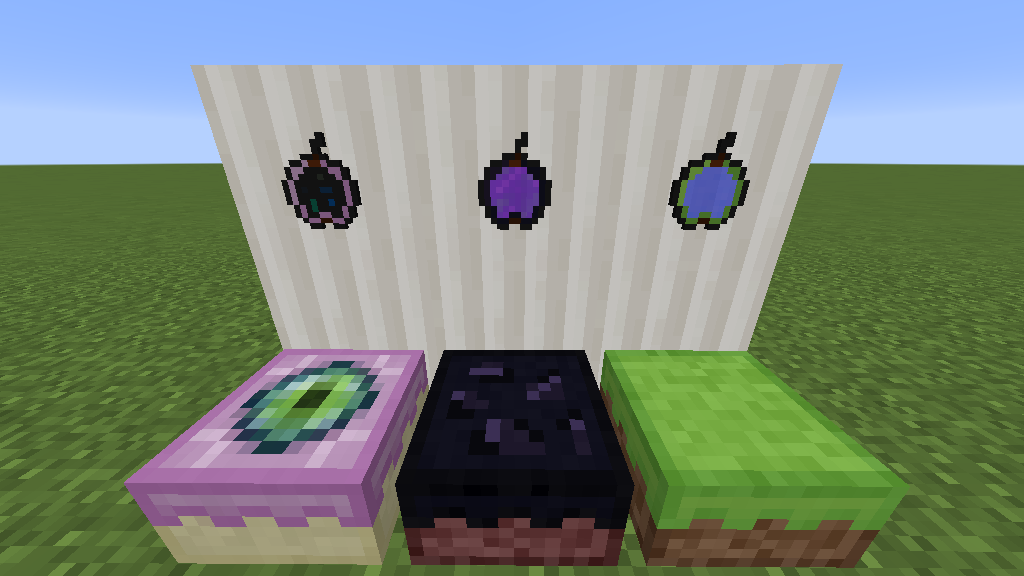 ---

---
Features
End Cake: Inspired by the End Cake in Dimensional Cake, they function pretty much the same, except the texture this mod uses is a custom-made one
Nether Cake: A new cake variant that allows you to go to the Nether, it teleports you to x0, z0 of the Nether upon eaten
Overworld Cake: A new cake variant that allows you to go to the Overworld from other dimensions, it teleports you to the world spawn upon eaten
Ender Apple, Nether Apple and Overworld Apple: Apples variant of the cakes, allows single-use teleportation
Want some more other cakes / apples in your modpack? You can add custom edibles as of version 1.3 of the mod! See the section below for more information.
Configurable config options to:

Enable / disable each items / blocks
Edit what "fuel" each cake uses
Customizing teleportation coordinates to different dimensions
Enable / disable pre-fueled cakes upon placed

JEI Integration: Every items / blocks in this mod have a detailed description on JEI, acts as an ingame wiki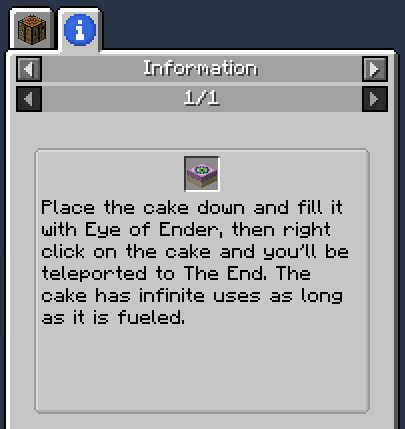 Waila (Hwyla) / The One Probe integration for cakes: Shows you how much "fuel" each cake in the world has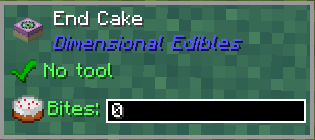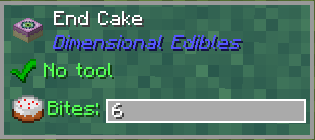 ---
Adding your own custom edibles
To add your own custom cakes / apples, look into the customedible section of the mod's config file
You may add as many custom cakes / apples as you like, but you have to add the crafting recipes for the cakes / apples yourself via CraftTweaker as this feature is mainly intended for modpack creators
---
Bugs / Feature Requests
Please submit any bug reports or feature requests through the GitHub issue tracker.
---
Source Code & License
---
Contact Me
Discord - Jacky#1234
Note: I do not accept DMs on CurseForge, all DMs on CurseForge are ignored.
---
Support the development
If you enjoy this mod and would like to support my mod development, consider donating / tipping! Every donations / tips are appreciated!
>>Click here to donate / tip<<
Other than donating / tipping, you may also support me by subscribing on Patreon or Twitch!
---
Special Thanks
ColossalPercy for making all the item / block textures
Turkey2349 for solving some problems I've encountered in making this mod