Are you disappointed with the Wandering Trader? If not, then you should be. He's pretty much a vagrant that goes around your world picking up random garbage and expecting you to buy it off him.
This mod aims to make the Wandering Trader get his act together and become a respectable merchant by making his trades more useful and interesting to the player.
The new and improved Wandering Trader will randomly pick 5 items from a carefully selected list of "Common-Rare" Items and 1 item from a list of "Super Rare" items to trade to the player.
Example 1: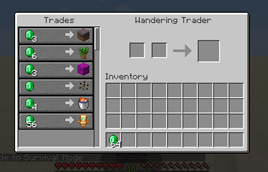 Users also have the ability to add their own customizable trades of vanilla AND modded items to the Wandering Trader via config entries.
The name of the config file is better_wandering_trades.json5 and it should be found in the config folder after running Minecraft with this mod installed.
Example 2: