Enhance your Minecraft lategame with new super powerful tiers of tools and armor!
Bedrock Tools 2 is finally here! It's a miracle!
Bedrock Tools 2 was made to expand the basic vanilla Minecraft experience. It gives the player further goals to strive for while trying to stay true to the base game.
Changelog
1.2.4
Fixed tooltips crashing on server
1.2.3
Fixed mod not loading with forge 31.2.0
1.2.2
Updated to 1.15.2
[1.14.4] Ported to forge 28.2
1.2.1
Fixed Air Runes being uncraftable in 1.12.2
1.2.0
Added Bedrockium Drill and Bedrockium Drill Base
Added Bedrockium Casing
Fixed Health Boost resetting every tick
1.1.0
Added Air, Earth, Fire and Water Runes
Added Bedrock Tablet
Fixed Bedrockium Armor having wrong stats
1.0.0
Added a crafting recipe for Bedrock
Added Diamond Stick
Added Bedrock Tools + Armor
Added Bedrockium Ore, Chunks, Blend and Plate
Added Bedrockium Tools + Armor
Features
Currently Bedrock Tools 2 adds two new tiers of tools and armor to the game: Bedrock and Bedrockium. All recipes can be found in the "images" tab.
Tier 1: Bedrock
The first tier of tools is made from bedrock itself. While being super strong, the tools aren't that sharp or fast due to being made from stone. The armor also is so heavy, that wearing it will slow you down. Also be careful handling the bedrock, as there are yet no ways to remove them.
Tier 2: Bedrockium
The second tier of tools is made from Bedrockium, a rare metal found only close to bedrock. While being as tough as a bedrock it is also light as a feather and can be made into armor without slowing you down. Bedrockium Ore can only be mined with tools made from Bedrock or better.
Runes
You can craft magical runes to infuse your Bedrockium tools and armor with the power of the four elements: air, earth, fire and water. Each element gives your items a unique effect from faster mining speeds to even flying. Bedrockium items can be infused with an element by placing the item and a corresponding rune in the crafting table. Runes cannot currently be removed from the tools so make sure to choose carefully which runes you want to use on which items.

Machines
Bedrockium Drill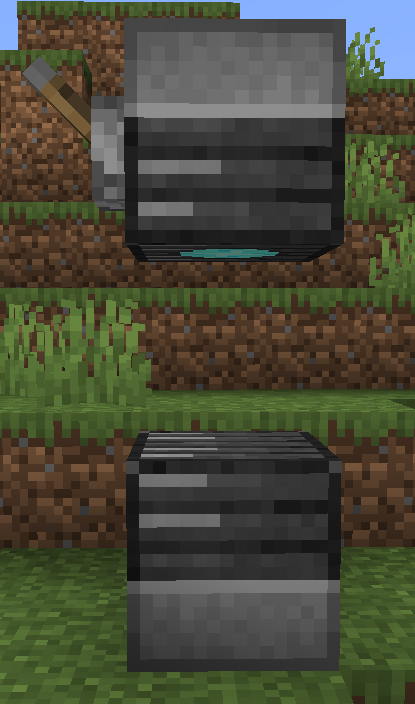 Accidentally missclicked and blocked your front door with a bedrock block? Worry no more! The diamond drillhead of the Bedrockium Drill will cut through any block in no time! Just place the Bedrockium Drill above a Bedrockium Drill Base with any block between them and power the drill with redstone.
Modpacks
Feel free to add this mod to any modpack you want. If you do, you can notify me about it and I might add it to a list of highlighted modpacks!
Highlighted modpacks:
Mod Spotlights
Give your feedback and suggestions in the comments!
(There is a pretty good chance in might get added!)