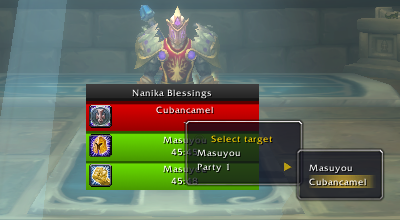 Nanika Pally Blessings
Description
Does anything it does.
Which at the moment is only the following:
Paladin Blessings
Inspired by the old goodness of PallyPower, this module lets you assign targets and which blessings to cast on them.

Left Click the button to cast

Right Click the button to assign targets

Scroll on the icon to change blessing

Right Click and drag the header to move the frame

Click and drag the right of the header to change size.

This is my first addon so the code is still a bit scruffy from the refactoring while learning ;) When I have some spare time I'll gladly clean up the code and implement a few tiny additions to the Blessings module. Thereafter I'll simply continue with whatever I am in need off!