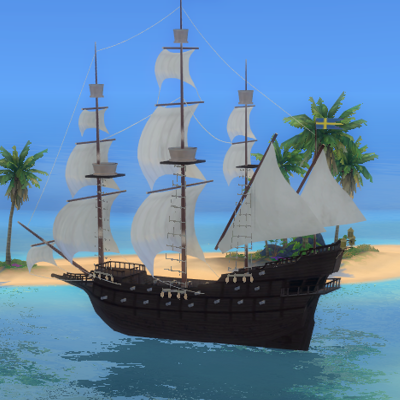 A Galleon - The Great Crown
Description
Sailing on the sim seas. Converted 3d-model, pretty high poly, so maybe don't place too many ;). Two variations, sailing and port version.
Named after the Swedish Stora Kronan (Great Crown) which was one of the largest sailing warships of her time - she went down in the battle of Öland in the Baltic Sea anno 1676 with a few of my ancestors aboard (more than 800 died when she sank).
Sailing version comes with 4 flags: generic, British Naval, Swedish and Pirate. The port version takes the textures from the sailing one, and both files are merged into one - if you want to recolor or edit, unmerge the two files and edit the sailing one. (For example, to add swatches with your favorite flags).
Base Game compatible.
Place off lot with T.O.O.L by Twisted Mexi (can also of course be used in CAW if you are an alpha tester of that mod).