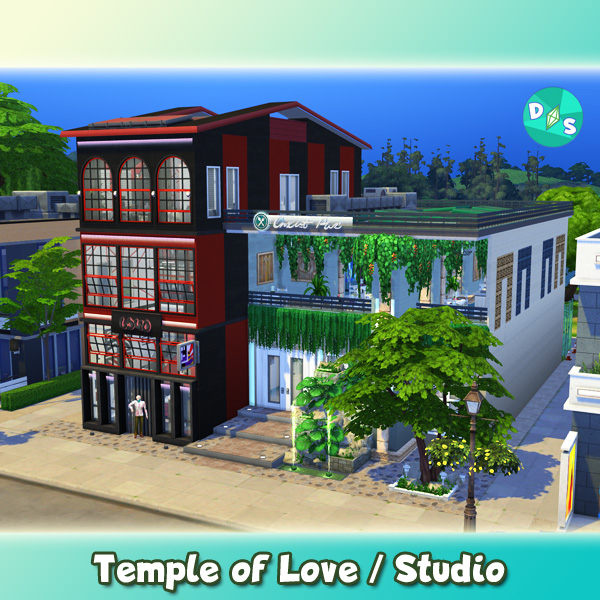 Temple of Love / Studio (NoCC)
Description
The Temple of Love is the ideal place to live a romantic adventure with your partner, the exquisite Latin food, its bar and its karaoke terrace invite you, and if you sing a duet with your partner you could win the secret gift of the chest, the owner of the local next door, don't pay attention to him! He's obnoxious and he spends his time taking fashion photos and surely because of his taste in decoration he makes coats with puppies like Cruella de Vil / This lot is for the #estoyinlove challenge of Ozono96
"Mutual Hate"
«In a plot of land, two commercial premises were rented, the administrator so heartless distributed the premises without any special sense, just to see the annoyance of the people who would rent the commercial spaces, being one on top of the other, at first glance it does not seem like something so troublesome, and most likely no one is fooled by the lot manager's ruse and bad intentions, except a couple of people.
John Smithers and Smith Johnson, are two guys who have been fighting with each other since elementary school, some say it is due to the similarity of their names, others say that someone turned them against each other, or it is due to their tastes very contrary, but the truth is that John Smithers and Smith Johnson cultivated a rivalry, with everything they touch, unfortunately their paths always cross even though they distance themselves to live their lives, one of those coincidences is the day they rented these premises .
John Smithers decided to establish a Latino restaurant with an ancient temple theme, his place is beautiful, he loves the traditional but he wanted to attract the public, so he put a bit of modernism in the place, he also thought of a great idea and it is to reward his clients if they do karaoke in pairs.
Smith Johnson arrived later, not knowing who owned the other store, he decides to settle next door, where he sets up a studio with the most extravagant colors because his passion is fashion and photography, and he lives an eccentric life, not at all traditional. .
In one afternoon the owners see each other's faces by chance and realize that their rival is the owner of the other location, starting a war where they would ruin the prestige of their locations, attacking each other, while the owner of the entire lot laughs while drinking a drink. drink on a lounger»
Lot Type: Restaurant
EA ID: Diartch
DLC Requirements:
Expansions Packs:
Get to Work
Get Together
City Living
Cats & Dogs
Get Famous
Island Living
Discover University
Eco Lifestyle
Snowy Escape
Cottage Living
High School Years
Game Packs:
Spa Day
Dine Out
Parenthood
Jungle Adventure
Dream Home Decorator
Werewolves
Stuff Packs:
Luxury Party Stuff
Perfect Patio Stuff
Cool Kitchen Stuff
Vintage Glamour Stuff
Fitness Stuff
Laundry Day Stuff
Moschino Stuff
Tiny Living Stuff
Nifty Knitting Stuff
Paranormal Stuff
Kits:
Zones:
Entrance
Aisle
Main room
Kitchen
Restaurant Bathrooms
Patio with bar
Terrace
Karaoke stage
Studio Reception
Photo Studios
Study office
Features:
Lot Size: 30x20
Price: 249.783
Public Toilets: 5
Cheats
Please do not re-upload if more than 50% has not been edited
Do not claim as your own.
Speed Build