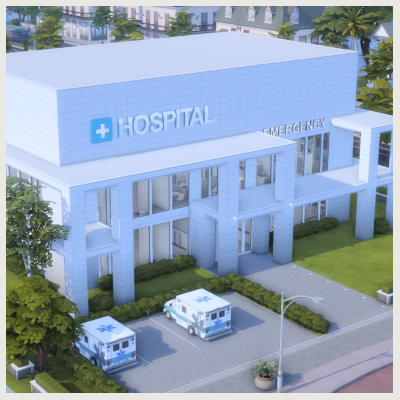 ღ Snowflake hospital center
Description
ღ Snowflake hospital center ღ
This build contains cc but it's very minimal because I hate when there are too many cc to download.
- this build was created to work with the childbirth mod
- packs used : Get to work | Desert Luxe Kit
- place with "moveobjects"
CC list (required)
deco sims (optional & very hight poly : you don't need it if your computer can't handle too much cc)
Please, let me know if there are any issues !
---
How to place an hospital ?
when your sims goes to the hospital, open the cheat box with the keys "shift + ctrl + c" and enter the following codes:
- testingcheats on
- bb.moveobjects
- bb.enablefreebuild
you can now edit the terrain and place the new one there.
How to install tray files ?
just extract the zip folder in your tray file which is in your documents/electronics Arts/The sims 4/Tray