Description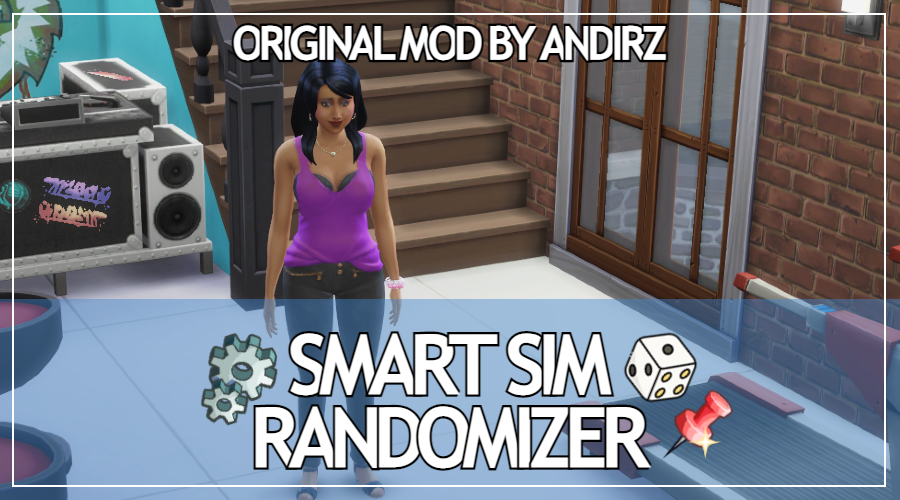 Mod Description
The main feature of this mod is an automatic intelligent filling of empty sims. Automated fill affects literally ALL Sims (both active and NPCs) when they appear in game. Any properties already acquired will not be deleted. The Smart Sim Randomizer menu can be found on every Sim (both active and NPC) in the cheat menu with the Shift key!
Smart randomization is now implemented for the following:
Likes and Dislikes
Each Sim is automatically given:
one like and one dislike for Characteristics;
one like and one dislike for Conversation Topics;
two likes and two dislikes (or one each for children) for Activities;
two likes and two dislikes for Colors;
two likes and two dislikes for Music Genres;
one like and one dislike for Fashion;
one like and one dislike for Décor.
The selection of traits is random with the probability correction depending on other characteristics of the Sims. For example, a snobby Sim may not like simple furniture, a creative Sim may be more interested in painting, a vampire may like the black color more than the others, and an active Sim will most likely prefer sports activities. The clothes that the Sims are currently wearing also influence their choice of favorite color and fashion style. The randomized features are tuned into one sound. For example, if a Sim doesn't like to cook, they probably won't like to bake either. And a Sim that doesn't like DJ music most likely won't like DJ Mixing either, etc. The more traits your Sim has, the more likes and dislikes will match. Work in this direction will continue so that there is a necessary balance between different features.
Hidden trait based preferences
The automated generation also affects movie genres, weather and temperature preferences, umbrella choices, fork or chopstick choices, political position, like or hate eating mayonnaise. For example, the romantic Sims prefer romance movies and the Sims who enjoy doing comedy prefer watching comedy. The vampires hate the sun and the mermaids love the rain.
The umbrellas are not randomly generated, but according to the Sims' favorite color! The Sims who like the red color now have a red umbrella too! If you have actively selected an umbrella through the selection menu, its color will not change automatically but will remain as you have selected.
Character values
All Sims from Young Adult to Elder receive an automatically intelligently randomized generated character value (from EP Parenthood). However, if Sims already have some character values, they will not receive new ones. Thus, your pilled Sims are not affected.
Exceptions to Randomization
Some users have also asked if auto-randomization could be turned off entirely for select Sims. There is an interaction "Enable Automatic Randomization" and "Disable Automatic Randomization" in the mod menu. This is then done via a picker by assigning the hidden trait "No Auto Randomness". With the deactivation of the automatic generation, the affected Sim is ignored by the mod.
Smart Assignment by Mouse Click
There is also an option to do all smart assignments with a click from the menu, e.g. if you don't like the automatically assigned traits and want to try fate again. For this I recommend you to use my Smart Sim Cleaner mod beforehand. And then you can try the randomization per click.
There are the following options:
Intelligent randomization of all likes and dislikes. You can randomize the preferences for the selected Sim either separately by group (e.g. only color preferences) or absolutely all preferences at once with one click.
Intelligent randomization of all hidden trait based preferences and character values (similar to automated assignment).
Intelligent randomization of university degrees without skills (fake degree) and with intelligent allocation of skills (real degree).
Purely random skill generation without university degrees (even if you don't own the university pack).
Intelligent randomization of werewolf temperament.
Updates in new Version 2.0.0
Mod structure change
Extensive optimization for Base Game Only players. Switching from XML Injector to Lot51 Core Library. Please note the information on requirements.
All cheating options (except the actual randomization) have been removed from the mod and moved to other mods (Smart Sim Cheater and Smart Gender Cheats).
The Movie Preferences visible traits have also been removed from the Smart Sim Randomizer and is now no longer an add-on, but an independent little mod (just like it used to be done with weather preferences). This mod has already been published on CurseForge.
The visualization of political preferences has been permanently removed. There are other mods from other authors that do the same thing too. You can use these other mods if you want.
Change in randomization
The number of automatically generated likes and dislikes has been adjusted and in some cases reduced. The Sims shouldn't be too full, otherwise there won't be anything left for gameplay. If desired, you can always manually add additional likes and dislikes to each Sim (including NPCs) via click.
New likes/dislikes activity traits have been added for intelligent randomization: Horse Riding, and Nectar Making from EP14 Horse Ranch. New likes/dislikes music traits have been added for intelligent randomization: Batuu, Brazilian, Oldies, Ranch, RnB, and Retro.
Several adjustments to how likes and dislikes are generated to make them more consistent with each other and with other features, especially considering the new Horse Ranch Pack.
Now some fears (e.g. darkness, ghosts, horses) can also influence likes and dislikes towards certain activities or genres of music. The generation of fears is still not automatic, but only possible with a mouse click.
Children now also have the option of generating random skills with a mouse click. Currently it is only possible to generate four basic skills for children and not the skills for adults. In addition, the generation is purely arbitrary and not yet intelligent.
Skills can now also be randomly generated for horses. The generation is in test mode and is still purely arbitrary without taking personality into account.
Content of the downloads archive
Since version 2.0.0, the download archive only contains a single required file: Smart Sim Randomizer Core Package. However, you also need to download the Smart Shared Core (package and script). This core is a shared resource for multiple mods.​
Note that the older versions of Smart Sim Randomizer also included add-ons. These are now obsolete. Please delete all old files!
Translations
Wherever possible, strings from the game were used, so they are available in all languages. The new strings are available in the following languages: English, German, Spanish and Russian in my own translation. All other localizations are in the English language. If you would like to suggest your translation or add to or correct the existing translations, please contact me.
Related Mods
Check out other related mods:
***
Mod Support available via my Discord:
https://discord.gg/f7EM7SNXtz